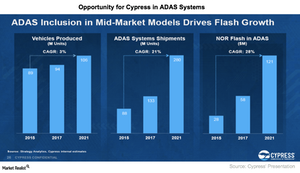 What's Cypress Want with ADAS?
By Puja Tayal

Apr. 12 2017, Updated 10:37 a.m. ET
ADAS
As the automotive market moves toward autonomous control, car ADAS (advanced driver assistance system) will likely become more and more complex. The emergence of autonomous cars should also drive the adoption of basic ADAS in mid- and low-level cars, increasing the overall market for ADAS.
Cypress Semiconductor (CY) estimates that ADAS shipments will grow at a CAGR (compound annual growth rate) of 21% between 2016 and 2021, while vehicle production is estimated to grow only 3% during the same period.
Article continues below advertisement
What is driving content in ADAS?
Over the next few years, the automotive market will likely move toward fully autonomous cars, and this move should drive demand for NOR flash and SoC (system-on-chip). Major technology companies are thus developing their autonomous car platforms. Nvidia (NVDA) has built DRIVE PX2, and NXP Semiconductors (NXPI) has built Blue Box. Google (GOOG) is developing its own autonomous car.
What is ADAS for Cypress?
The ADAS landscape consists of SoC platform developers such as NXP Semiconductors and Nvidia as well as tier-1 suppliers such as Bosch and Tesla (TSLA). Cypress is not looking to become a SoC player in the automotive market. Instead, it has partnered with SoC platforms and tier-1 suppliers to supply specialized, zero defect, NOR flash memory for their ADAS platforms.
Cypress's products are qualified in all existing ADAS platforms. In fact, the company is the exclusive supplier for 50% of all ADAS systems. This opportunity for CY should accelerate as ADAS adoption increases.
The chipmaker estimates that NOR flash memory in ADAS will grow at a CAGR of 28% between 2016 and 2021. To tap this opportunity, Cypress has stopped selling commodity NOR Flash memory and is now focused on developing specialized memory that has high endurance, high-performance, high functional safety, and seamless system integration. 
Next, we'll look at the opportunity for Cypress in body electronics.