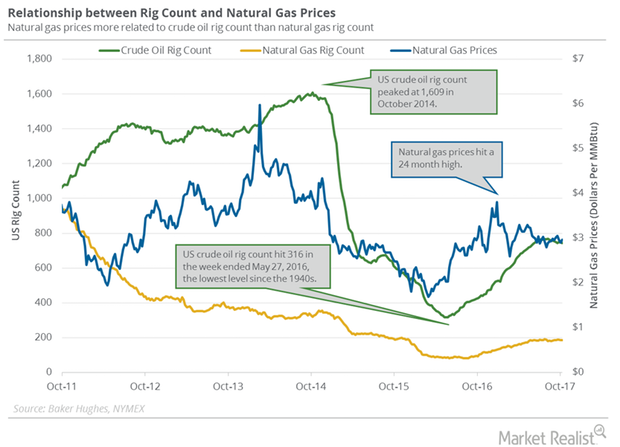 US Gas Rigs Hit 5-Month Low: Good or Bad for Natural Gas Futures?
US natural gas rigs 
General Electric company Baker Hughes is scheduled to release its weekly US oil and gas rig report on October 27, 2017. In its previous report, Baker Hughes reported that US natural gas rigs fell by eight to 177 from October 13 to October 20. It was the lowest level since May 12, 2017.
Natural gas rigs have slowed due to stalling oil (DBO) (UWT) and natural gas (UNG) (GASL) prices in the last few months. Lower gas prices impact drillers (IEZ) (XES) like Atwood Oceanics (ATW) and Transocean (RIG).
Article continues below advertisement
Peaks and lows in natural gas rigs
The US natural gas rig count hit an all-time high of 1,606 rigs on September 12, 2008. But, it hit a low of 81 rigs in the week ending August 26, 2016. Rigs are up 119% since the lows in August 2016.
Oil rigs affect natural gas drilling and production
Natural gas is often a byproduct of crude oil. US crude oil rigs are up by 420 rigs, or 133% from their low in May 2016. The US crude oil rig count rose due to the rise in oil prices in 2016. US crude oil (USL) (SCO) prices are at multi-month highs.
Higher crude oil (UWT) (DWT) prices could drive US drilling activity and spur natural gas production. Higher production can have a positive impact on the earnings of producers (XLE) (VDE) like Gulfport Energy (GPOR) and Antero Resources (AR).
Impact
US natural gas rigs are at a five-month low, which suggests that natural gas rigs could fall further unless oil and gas prices firm up.
Next, we'll cover US natural gas production and consumption.