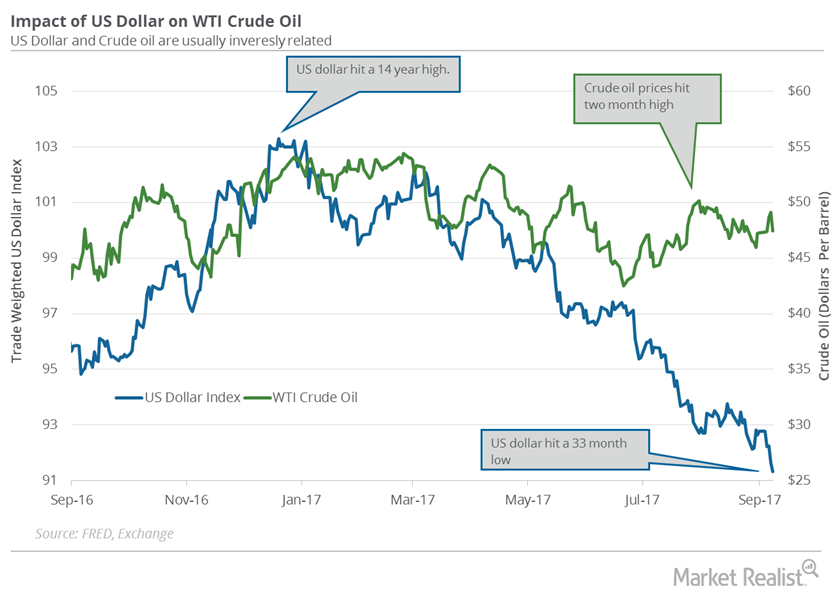 Why the US Dollar Hit a 33-Month Low
US dollar 
The US Dollar Index fell 0.34% to 91.33 on September 8—the lowest level in the last 33 months. Prices fell due to the following factors.
infrastructure damage caused by hurricanes Irma and Harvey
geopolitical tensions between the United States and North Korea
the Euro appreciating 14.6% so far in 2017
uncertainty over the potential US rate hike in 2017
experts' expecting weak inflation in 2017
The US dollar (UUP) has fallen ~12.1% from its high in January 2017. It fell for the sixth straight month in August—the longest decline in the last 14 years. The dollar fell due to President Trump's inability to deliver on planned tax subsidies and infrastructure reforms.
Article continues below advertisement
US dollar and crude oil 
The US dollar fell 1.6% last week—the biggest weekly fall in the last four months. However, US crude (DBO)(USL)(PXI) futures rose 0.4% last week, the first weekly gains in the last six weeks.
The US dollar and crude oil prices are inversely related, as you can see from the chart above. A weak US dollar makes crude oil more affordable for crude oil importers.
As a result, the dollar supported crude oil (SCO)(BNO)(OIH) prices last week. Higher crude oil (USO)(UCO)(XLE) prices have a positive impact on oil and gas producers like Exxon Mobil (XOM), ConocoPhillips (COP), PDC Energy (PDCE), and Sanchez Energy (SN).
US dollar highs and lows  
The US dollar hit an intraday low of 90.99 on September 8—the lowest level since January 2015. In contrast, the US dollar hit a high of 103.8 on January 3, 2017—the highest level in 14 years.