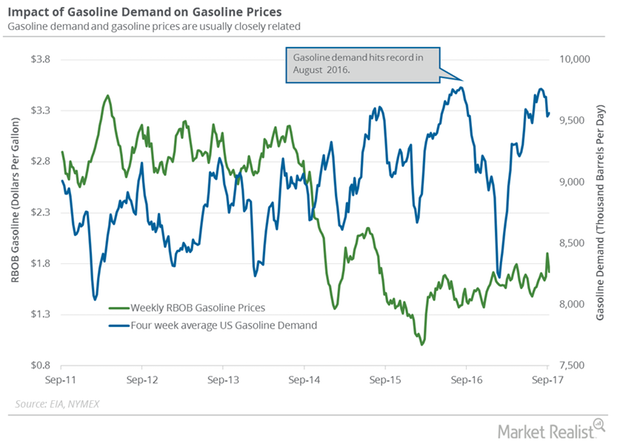 US Gasoline Demand Could Fall in 2018
US gasoline demand 
The EIA (U.S. Energy Information Administration) estimates that weekly US gasoline demand rose by 456,000 bpd (barrels per day) to 9.6 MMbpd (million barrels per day) on September 1–8, 2017. Gasoline demand rose 5% week-over-week and by 213,000 bpd, or 2.3%, year-over-year.
Any rise in gasoline demand is bullish for gasoline (UGA) and crude oil (SCO) (DWT) prices. Higher gasoline prices have a positive impact on refining companies like Phillips 66 (PSX), Tesoro (TSO), and Valero (VLO).
Article continues below advertisement
US gasoline demand peaks and lows 
US gasoline demand hit 9.8 MMbpd in July 2017—the highest level ever. Gasoline demand was at 8.0 MMbpd in January 2017—the lowest level since February 2014.
US gasoline consumption estimates 
The EIA released its STEO (Short-Term Energy Outlook) report on September 12, 2017. It estimates that US gasoline consumption will average 9.33 MMbpd in 2017—the same as previous estimates from the STEO report in August.
US gasoline consumption could average 9.37 MMbpd in 2018—0.2% higher than the previous estimate.
US gasoline consumption averaged 9.33 MMbpd in 2016—a record high. Consumption averaged 9.1 MMbpd in 2015.