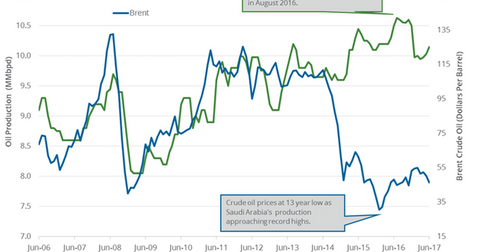 Will Saudi Arabia's Crude Oil Export Plans Rescue Oil Prices?
By Gordon Kristopher

Updated
Saudi Arabia's crude oil production
Saudi Arabia is the largest crude oil producer and exporter among the OPEC (Organization of the Petroleum Exporting Countries) member countries.
The EIA (U.S. Energy Information Administration) estimates that Saudi Arabia's crude oil production rose 120,000 bpd (barrels per day) to 10.2 MMbpd (million barrels per day) in June 2017 compared to May 2017. This level would have been the highest both in 2017 and since the beginning of the production cut deal. Production rose 1.2% month-over-month, but it fell 3.3% year-over-year.
High Saudi Arabian production is bearish for crude oil (ERY) (ERX) (IXC) prices. Low crude oil prices have a negative impact on oil producers such as Warren Resources (WRES), ConocoPhillips (COP), Matador Resources (MTDR), Apache (APA), and Continental Resources (CLR).
Article continues below advertisement
Saudi Arabia's crude oil export plans
Market surveys project that Saudi Arabia exported 6.9 MMbpd of crude oil in May 2017, 82,000 bpd lower than its exports of 7.0 MMbpd of crude oil in April 2017. Saudi Arabia reduced its exports to comply with OPEC's production cut deal and also due to a rise in domestic consumption in the summer months. Read OPEC's Crude Oil Exports: Bullish or Bearish for Traders? for more on OPEC's crude oil production and exports.
Saudi Arabia also plans to reduce its exports to the United States and Europe in July 2017 in order to comply with the production cut deal. Some traders believe that Saudi Arabia plans to reduce its exports by 1.0 MMbpd in the coming months to reduce global and US crude oil inventories.
A reduction in exports by Saudi Arabia would offset the rises in production from Nigeria and Libya. However, any rise in Saudi Arabia's crude oil production would pressure crude oil (XLE) (XOP) prices.
In the next article, we'll analyze how US gasoline demand affects oil prices.