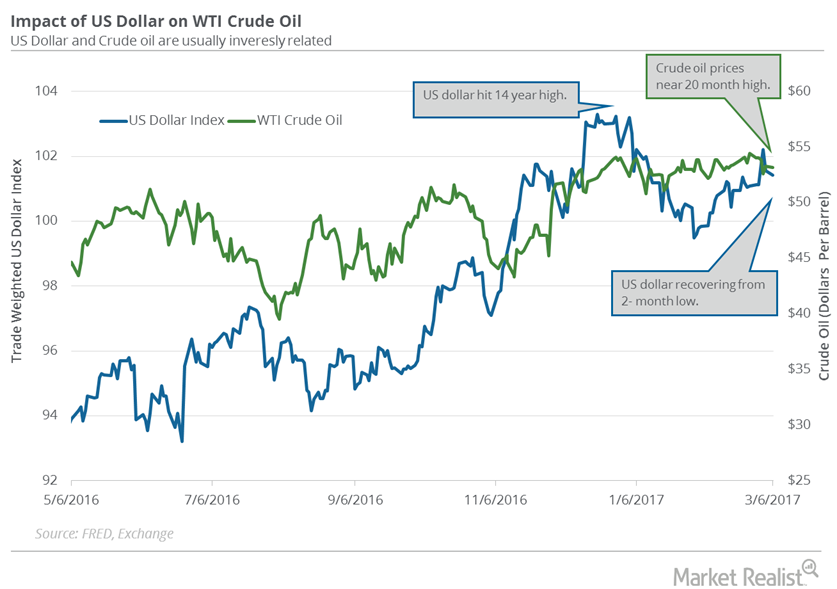 Janet Yellen and the US Dollar Impacted Crude Oil Prices
Crude oil prices 
April WTI (West Texas Intermediate) crude oil (UCO) (PXI) (ERX) futures contracts fell 0.64% and were trading at $53 per barrel in electronic trade at 4:40 AM EST on March 6, 2017. Prices are trading near a 20-month high. Likewise, broader markets such as the S&P 500 (SPY) (SPX-INDEX), the Dow Jones Industrial Average, and the NASDAQ Composite Index are near all-time highs. For more on crude oil prices, read Part 1 and Part 4 of this series.
Article continues below advertisement
Article continues below advertisement
US Dollar Index, the Fed, and Trump  
The US Dollar Index fell 0.64% to 101.55 on March 3, 2017. On the same day, Fed Chair Janet Yellen discussed a possible US interest rate hike on March 15, 2017. The US dollar fell after Yellen's comments. The US dollar already factored in the possibility of a rate hike. The weak dollar supported crude oil prices on March 3, 2017. The dollar hit a high of 103.8 on January 3—its highest level in 14 years. The dollar (UUP) had been rising due to the following factors:
expectations of fiscal stimulus and possible tax reforms under President Trump
improving labor market
strong US economic growth outlook
improving US manufacturing activity
expectations of rising US inflation
the Fed's interest rate hike by 25 basis points on December 14, 2016, to 0.50%–0.75%
US dollar and crude oil   
The US dollar and crude oil (ERY) (ERX) (DIG) (XES) are usually inversely related. A weaker US dollar makes crude oil more affordable for oil importers. When the dollar falls, crude oil prices rise.
Volatility in crude oil prices impacts oil and gas producers' earnings such as Chevron (CVX), Noble Energy (NBL), Stone Energy (SGY), Comstock Resources (CRK), and Denbury Resources (DNR).
The expectation of multiple interest rate hikes in 2017 could push the dollar higher. Changes in the dollar could impact crude oil prices in 2017. The strong US dollar is expected to be one of the key downside catalysts for crude oil prices in 2017.
In the next part, we'll discuss the energy calendar for this week.