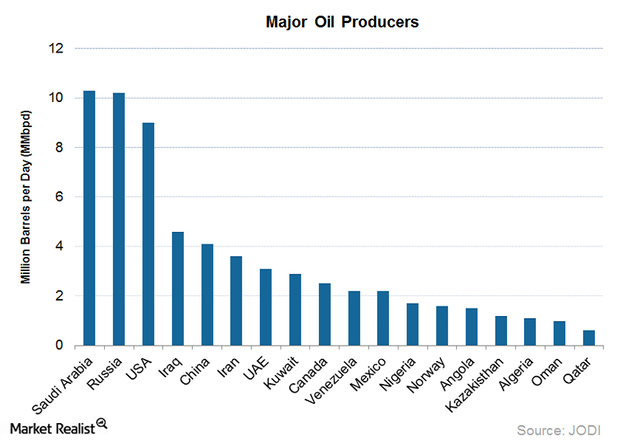 How OPEC and Non-OPEC Producers Affect Crude Oil Prices
Crude oil prices and the non-OPEC producer meeting 
Crude oil (BNO) (PXI) (USL) (USO) (UCO) prices were up ~4% between December 7, 2016, and December 19, 2016. On December 10, 2016, OPEC (Organization of the Petroleum Exporting Countries) and non-OPEC producers reached an agreement to cut production by 558,000 bpd (barrels per day). It's the first production cut deal since 2001 by major oil producers. Non-OPEC producers may start reducing production beginning in January 2017. The meeting's major participants were Russia, Mexico, Oman, and Azerbaijan. Russia said it would reduce production by 300,000 bpd from its current production of 11.4 MMbpd (million barrels per day).
On December 16, 2016, the Russian Energy Minister said all Russian oil companies agreed to cut crude oil production.
Article continues below advertisement
Article continues below advertisement
Crude oil prices and the OPEC producer meeting
Brent and WTI crude oil were up ~12.0% between November 25, 2016, and December 16, 2016. The rise came after OPEC reached an agreement to cut production by 1.2 MMbpd (million barrels per day) at its November 30, 2016, meeting. For more details on the meeting, read Crude Oil Prices Skyrocket as OPEC Agrees to Cut Production and How Will OPEC's Production Cut Impact Crude Oil Prices?
Kuwait, UAE (United Arab Emirates), and Saudi Arabia have told Asian crude oil buyers that they will cut supplies in the coming months as part of the production cut deal.
Impact 
The crude oil production cuts from OPEC and non-OPEC countries would reduce crude oil oversupply and support crude oil prices. However, high crude oil prices could support the rise in crude oil production in countries such as the United States and Canada.
For more information, read How Does Non-OPEC Crude Oil Production Impact Crude Oil Prices? and What Will Happen if the Oil Producer Meeting Succeeds? You can also refer to Why Is US Crude Oil Production Bearish for Crude Oil Prices?
The roller coaster ride in crude oil prices can impact the earnings of oil and gas exploration and production companies such as Comstock Resources (CRK), Sanchez Energy (SN), ConocoPhillips (COP), ExxonMobil (XOM), Triangle Petroleum (TPLM), and Carrizo Oil & Gas (CRZO).
Moves in crude oil prices also impact ETFs and ETNs such as the VelocityShares 3x Inverse Crude Oil ETN (DWTIF), the Fidelity MSCI Energy ETF (FENY), the iShares Global Energy ETF (IXC), the Guggenheim S&P 500 Equal Weight Energy ETF (RYE), and the SPDR S&P Oil & Gas Equipment & Services ETF (XES).
For more on crude oil prices, read Saudi Arabia: Weather Will Be a Key Demand Driver of Oil in 2H16 and Winners and Losers in Energy after the US Election Results. For more on crude oil price forecasts, read Will Crude Oil Prices Test 3 Digits Again? and Major Banks Downgrade Crude Oil Prices despite OPEC's Deal.
For related analysis, visit Market Realist's Energy and Power page.