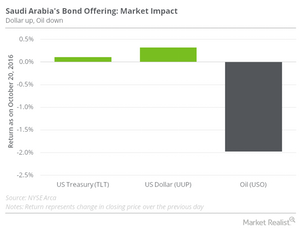 Saudi Arabia Enters International Bond Market, Raises $17.5 Billion
Saudi Arabia sets a record
This is indeed a difficult time for economies, investors, and companies. Who could have imagined that Saudi Arabia would stumble upon the need to raise money?
On October 20, 2016, the government of Saudi Arabia raised about $17.5 billion in an international bond issuance, marking the emerging market's (EEM) first foray into the international bond (BWX) (IGOV) (IAGG) market and the creation of the largest emerging market debt (EMB) offering on record. It broke the $16.5 billion bond sale record set by Argentina (ARGT) in April 2016.
Article continues below advertisement
Article continues below advertisement
The offering
The government of Saudi Arabia raised a total of $17.5 billion in funds through its sovereign bond offering. The issuance included $5.5 billion in 3.25% bonds maturing in 2026 and another $5.5 billion in 2.375% bonds maturing in 2021. The Bank of China, BNP Paribas, Citigroup (C), Deutsche Bank (DB), Goldman Sachs (GS), HSBC (HSBC), JPMorgan Chase (JPM), Morgan Stanley (MS), and MUFG Securities EMEA (MUFG) count among the book runners of these offerings.
The offering met with strong investor demand, as evidenced in the country's raising more than it had anticipated. Proceeds from the offering will be used to fill in the gap in its budget deficit. They'll also be used toward lessening the economy's dependency on oil through diversification.
Market impact
The issuance led to a rise in yields on US Treasury bonds as prices fell. The long-term Treasury-tracking iShares 20+ Year Treasury Bond ETF (TLT) rose 0.11% on October 20. The US dollar–tracking PowerShares DB US Dollar Bullish ETF (UUP) rose 0.32%, while the oil-tracking United States Oil ETF (USO) fell ~2%.
So what led to the offering? Let's try to understand what led the oil-rich emerging market of Saudia Arabia to raise funds from the market.