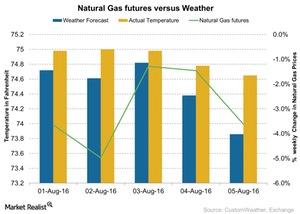 How Weather Could Impact Natural Gas Prices
What's the weather forecast?
The weather forecast for August 8–14, 2016, indicates that temperatures in the United States could remain higher than the mean of the last five years for the same time period, except on August 8, 2016. Higher temperatures increase the use of natural gas (UNG) (DGAZ) (BOIL) (FCG) (UGAZ) (GASL) for cooling purposes during the summer.
Article continues below advertisement
Article continues below advertisement
El Niño anomalies
Natural gas usage for heating in the 2015–2016 winter season was low due to mild weather. El Niño's intensity kept temperatures warmer than normal. As a result, at the end of March 2016, US natural gas inventories were at 2.5 trillion cubic feet, which was 67% higher than their 2015 levels and 53% higher than their five-year average.
In the week ended August 5, 2016, temperatures were higher than the forecast for the week. That boosted natural gas prices on August 3 ahead of the inventory data on August 4. However, natural gas futures fell 2.2% on August 5, 2016, due to Market expectations that the soon-to-end summer would fall short of undoing the bearish pressure from strong supplies.
On August 4, 2016, the EIA (U.S. Energy Information Administration) announced a 6 Bcf (billion cubic feet) fall in natural gas inventory levels for the week ended July 29, 2016. Analysts expected a slight addition to inventory, according to a report by the Wall Street Journal.
The above analysis could be important for natural gas–weighted stocks such as EXCO Resources (XCO), WPX Energy (WPX), and Antero Resources (AR). It also impacts natural gas–tracking commodity ETFs such as the ProShares Ultra Bloomberg Natural Gas (BOIL), the Direxion Daily Natural Gas Related Bear 3X ETF (GASX), and the Direxion Daily Natural Gas Related Bull 3X ETF (GASL).
Below are the production mixes of the natural gas–weighted stocks in natural gas (UNG) (DGAZ) (BOIL) (FCG) (UGAZ) (GASL):
In the next part of this series, we'll take a look at the price performances of natural gas, crude oil, and the S&P 500 Index (SPY) (SPXL).