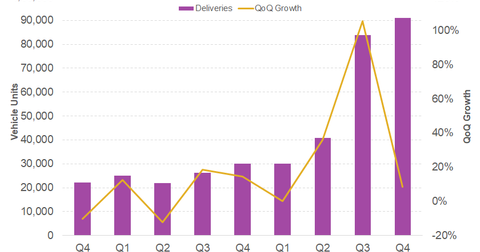 Could the Tesla Model Y Attract More Customers than the Model 3?
By Jitendra Parashar

Mar. 8 2019, Published 3:49 p.m. ET
Tesla Model 3
Tesla (TSLA) unveiled its mass-market electric sedan, the Model 3, in March 2016. It received over 400,000 reservations for the car in less than a month. The success and popularity of Tesla's previous premium car models, the Model S and Model X, could be one reason why it received a huge positive response for its lower-priced electric car, the Model 3.
Article continues below advertisement
Tesla Model Y to launch
On March 3, Tesla's CEO, Elon Musk, in a series of tweets, announced the unveiling date for the long-awaited Model Y. According to his tweet, the Model Y will be unveiled at an event at LA Design Studio on March 14. Musk also confirmed that the Model Y will be Tesla's second SUV after its premium SUV, the Model X.
Musk claimed the Model Y is 10% bigger and costlier than the Model 3. Compared to the Model 3, Tesla's lower-priced SUV will "have slightly less range for same battery," he added. According to Musk, during the event on March 14, "detailed specs & pricing will be provided, as well as test rides in Y."
SUV demand in the United States
In the last three years, the demand for pickup trucks and SUV car models have sharply risen in the United States, whereas demand for small passenger cars has gone down. So mainstream automakers (IYK) General Motors (GM), Ford (F), Fiat Chrysler (FCAU), Toyota (TM), and Honda (HMC) have increased their focus on SUVs and pickup trucks lately.
With the rising demand for SUVs in its home market, Tesla might not find it very difficult to attract buyers to its new lower-priced SUV. However, it might not be easy for the company to surpass the Model 3's initial reservation record.
The Model Y could also help Tesla compete with NIO (NIO) in the Chinese market. NIO currently offers electric SUVs the ES8 and ES6.
In the next part of this series, we'll take a look at Musk's battle with the SEC.