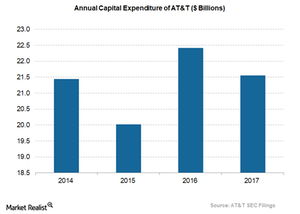 How US Tax Reform Bill Affected AT&T
By Sophia Nicholson

Feb. 9 2018, Published 12:09 p.m. ET
AT&T in favor of US tax bill
When US Congress reduced the corporate tax structure to 21% from 35%, AT&T (T) announced in December 2017 that it would pay a special bonus of $1,000 to more than 200,000 of its US employees including union-represented, non-management, and front-line management employees. The company also announced it would expand its US investments by $1.0 billion in 2018.
Like AT&T, Apple (AAPL), Comcast (CMCSA), Bank of America, and a few other companies also agreed to pay a special bonus of $1,000 to its US employees after the revised tax reform was announced.
Article continues below advertisement
AT&T during 4Q17
During the 4Q17 conference call, AT&T management stated that tax reforms have had a positive effect on the company's 2018 outlook. In 4Q17, the Dallas-based telecom company also announced over $200 million in bonuses to be paid to frontline employees. Further, the company will invest $800 million worth of voluntary funding to medical plans in the fourth quarter for its US employees. 
Tax reform to benefit various US multinationals
The telecom industry requires huge capital spending to maintain and improve its network infrastructure. Therefore, a cut in domestic taxes would help AT&T and other telecom companies like Verizon (VZ) to bring back their overseas cash and increase their capital spending, which would also allow immediate tax deductions for such investments. AT&T invested $21.6 billion in capital projects in 2017 and is expected to spend around $25 billion in capital spending, which includes $23 billion net of expected FirstNet reimbursements and $1 billion of incremental tax reform investment.