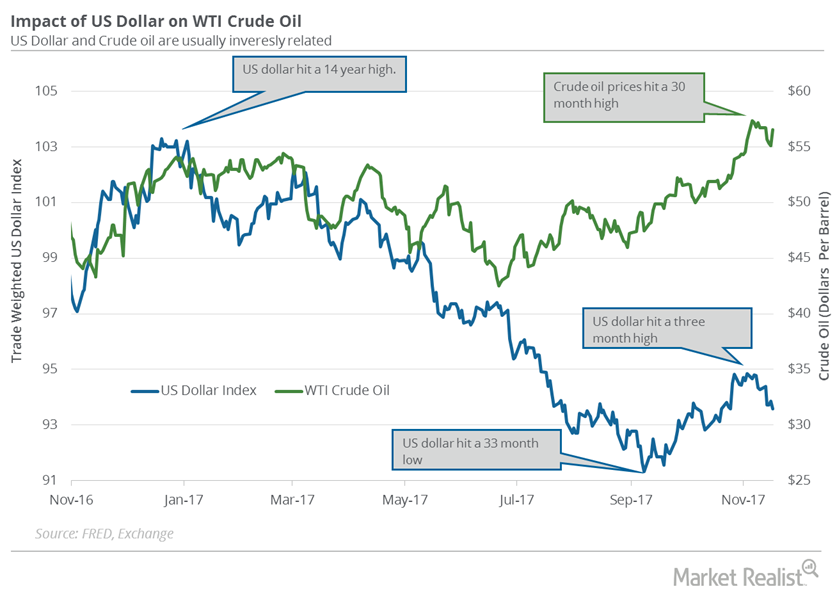 US Dollar Could Benefit Crude Oil Futures This Week
US Dollar Index 
The US Dollar Index fell 0.3% to 94.4 on November 17, 2017. It supported US crude oil (DBO) (SCO) prices on the same day. US oil prices are near a three-year high. High oil prices benefit oil companies (RYE) (PXI) like Bill Barrett (BBG), Occidental Petroleum (OXY), Hess (HES), and Bonanza Creek Energy (BCEI).
The US dollar (UUP) fell ~0.85% last week. The US dollar fell due to the delay in the US tax bill proposal. The bill aims to cut US corporate and household taxes. A Reuters survey estimates that nearly 70% of the economists aren't confident that the Trump Administration will get the bill passed this year.
Article continues below advertisement
US dollar's highs and lows 
The US dollar (USDU) hit 103.8 on January 3, 2017, which was the highest level in 14 years. In contrast, it hit a low of 90.99 on September 8—the lowest level in 33 months.
The US dollar hit a three-month high in early November 2017 due to the improving US economy and near-record US stock market (SPY) (DIA). The improving job market also supported the US dollar.
US dollar and crude oil  
Crude oil (OIL) (DWT) and US dollar prices are usually inversely related. The US Central Bank might raise US interest rates in December 2017 and even in 2018, which would strengthen the US dollar. An expectation of a strong US dollar could limit the upside for oil prices.
Next, we'll cover how Cushing inventories impact oil prices.