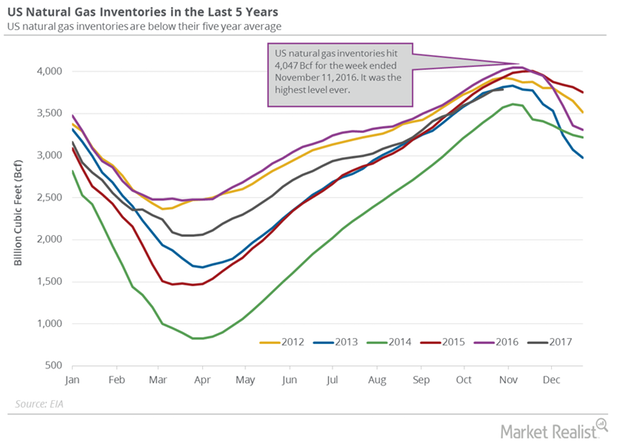 Are US Natural Gas Inventories Bullish for Natural Gas Futures?
EIA's natural gas inventories  
On November 9, 2017, the EIA (U.S. Energy Information Administration) released its US natural gas inventories report. It estimates that US gas inventories rose by 15 Bcf (billion cubic feet) or 0.4% to 3,790 Bcf on October 27–November 3, 2017. However, inventories fell 5.4% or by 219 Bcf from the same period in 2016.
A Reuters poll estimated that US natural gas inventories would have risen by 15 Bcf on October 27–November 3, 2017. The five-year average US natural gas addition for this time of the year was at 45 Bcf. Inventories rose by 54 Bcf during the same week in 2016. US natural gas (UNG) (GASL) (UGAZ) prices rose on November 9, 2017, due to the lower-than-expected rise in natural gas inventories—compared to historical averages.
Article continues below advertisement
Natural gas inventories in the US regions 
Changes in US gas inventories for the storage regions on October 27–November 3 are mentioned below:
East fell by 1 Bcf to 925 Bcf
Midwest rose by 5 Bcf to 1,112 Bcf
Mountain fell by 2 Bcf to 224 Bcf
Pacific flat at 317 Bcf
South Central rose by 13 Bcf to 1,212 Bcf
Impact 
Nationwide natural gas inventories were 21% above the five-year average during March 2017. However, inventories are 1.8% below the five-year average for the week ending November 3, 2017. The inventories rebalanced towards historical average levels.
Traders expect natural gas inventories to fall due to cold winter in the next few months, which could support US natural gas (UNG) (BOIL) prices.
In the next part, we'll discuss how US natural gas rigs drive gas prices.