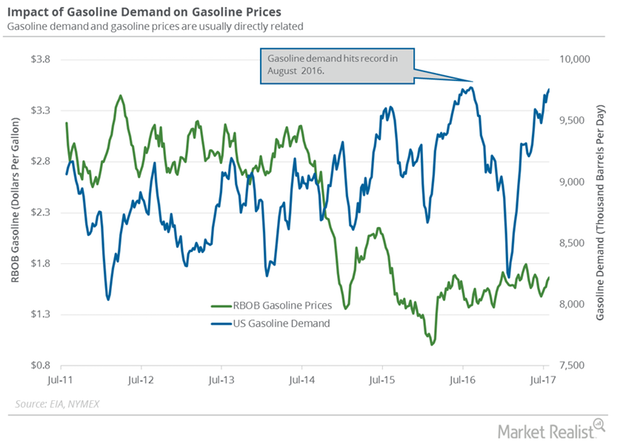 US Gasoline Demand Hit a Record: What's Next?
By Gordon Kristopher

Aug. 9 2017, Published 9:08 a.m. ET
US gasoline demand 
The EIA (U.S. Energy Information Administration) estimates that weekly US gasoline demand rose by 21,000 bpd (barrels per day) to 9,842,000 bpd on July 21–28, 2017. It's the highest level ever. The US gasoline demand rose due to a record distance traveled by US drivers.
Gasoline demand rose 0.21% week-over-week and by 90,000 bpd or 0.9% year-over-year. Record gasoline demand would have a positive impact on gasoline and crude oil (XLE) (XOP) prices. Higher gasoline has a positive impact on refiners' revenues like Phillips 66 (PSX) and Tesoro (TSO).
Likewise, higher crude oil (RYE) (VDE) prices have a positive impact on oil producers' earnings like ConocoPhillips (COP), Stone Energy (SGY), and Denbury Resources (DNR).
Article continues below advertisement
US gasoline demand's peaks and lows 
Weekly US gasoline demand hit a record 9.8 MMbpd (million barrels per day) in July 2017, as we discussed above. On the other hand, weekly US gasoline demand was at 8.0 MMbpd in January 2017—the lowest level since February 2014.
US gasoline consumption estimates 
The EIA released its Short-Term Energy Outlook report on August 8, 2017. It estimates that US gasoline consumption will average 9.33 MMbpd in 2017—0.1% lower than the previous estimates. The EIA also estimates that US gasoline consumption will average 9.36 MMbpd in 2018—0.3% lower than the previous estimates.
Gasoline consumption's downward revision could impact gasoline traders' sentiments. However, US gasoline consumption is expected to hit an all-time high in 2018. Consumption averaged 9.33 MMbpd in 2016—the highest level ever.
Impact  
US gasoline demand usually rises in the summer. However, demand might fall after the summer. US gasoline demand could be steady in 2017 and rise in 2018. High gasoline demand has a bullish impact on gasoline prices and crude oil (IEZ) (SCO) prices.
In the next part, we'll discuss China's crude oil imports.