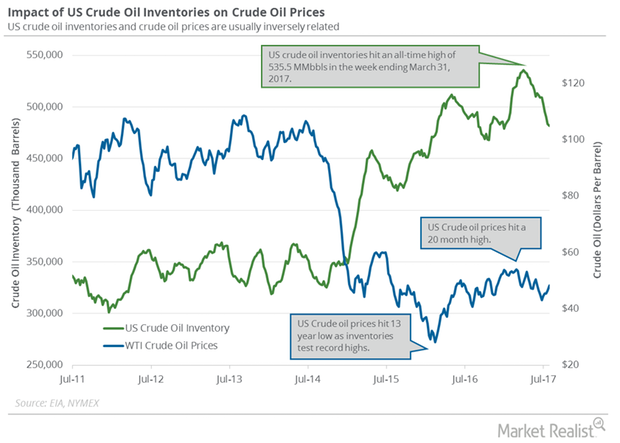 Crude Oil Futures Fell despite OPEC's Meeting and API Data
US crude oil futures  
September US crude oil (RYE) (SCO) (BNO) futures contracts fell 0.4% to $49.17 per barrel on August 8, 2017. Brent crude oil futures fell 0.4% to $52.14 per barrel on the same day.
US crude oil (XLE) (XOP) futures fell for the second consecutive day from the two-month high due to the following reasons:
There could be a decline in crude oil and gasoline demand after the end of the summer driving period.
The US dollar (UUP) recovered from a 13-month low. It pressured crude oil futures.
The U.S. Energy Information Administration upgraded US crude oil production figures to 9.35 MMbpd (million barrels per day) for 2017 and 9.91 MMbpd for 2018—0.1% higher than the previous estimates for both of the years.
Article continues below advertisement
Article continues below advertisement
Oil producers' meeting 
OPEC and non-OPEC producers' technical committee meeting was held in Abu Dhabi on August 7–8, 2017. Participants expressed that they would have high compliance towards OPEC's deal in the coming months. Oil producers need to cut production by 1.8 MMbpd from January 2017 to March 2018, according to OPEC's deal.
According to Bloomberg surveys, oil producers' compliance towards OPEC's deal was at 86% in July 2017. The deal's intention is to get rid of excess supplies and support oil (RYE) (VDE) prices.
However, traders are skeptical about the deal's success. As a result, crude oil (IEZ) (XES) prices fell after OPEC's technical committee meeting.
API's crude oil inventories  
The API (American Petroleum Institute) released its crude oil inventory report on August 8, 2017. It reported that US crude oil inventories fell by 7.8 MMbbls (million barrels) on July 28–August 4, 2017. US crude oil (USL) (PXI) prices fell despite the massive fall in US crude oil inventories in post-settlement trade on August 9, 2017, due to the bearish drivers mentioned above.
Market focuses on US crude oil inventories 
On August 9, 2017, the EIA will release its weekly crude oil and gasoline inventory report at 10:30 AM EST.
Next, we'll look at the API's Cushing crude oil and gasoline inventories.