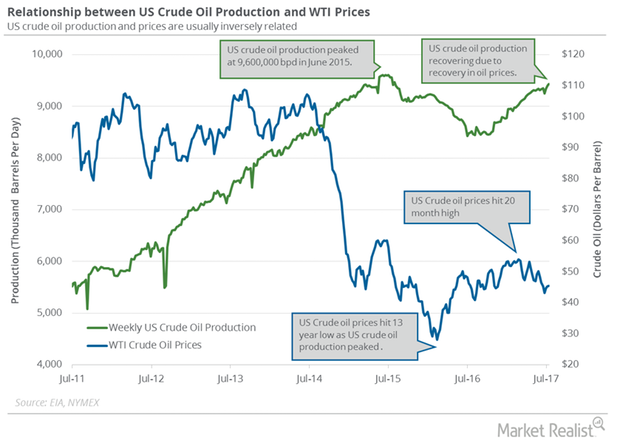 Crude Oil Futures Near 7-Week High
US crude oil futures  
Prices are near their seven-week high due to the following factors:
Oil equipment services company Halliburton (HAL) thinks that the US rig count will rise above 1,000 by the end of December 2017. However, rigs could average between 800 to 900 rigs in the medium term. If the rig count falls, we could see a slowdown in US shale production.
Independent oil and gas producer Anadarko Petroleum (APC) reported a worse-than-expected earnings loss in 2Q17. Consequently, it announced it would cut costs by $300 million in 2017 due to lower crude oil prices, which could lead to lower oil production.
Saudi Arabia's crude oil exports are expected to fall one MMbpd (million barrels per day) to 6.6 MMbpd in August 2017 in comparison to the corresponding period in 2016.
Market participants expect higher compliance from major oil producers after a meeting between OPEC and non-OPEC members held on July 24, 2017.
OECD (Organisation for Economic Cooperation and Development) crude oil inventories fell in June 2017 to nearly a six-month low.
The S&P 500 Index (SPY) (SPX-INDEX) hit a new record on July 25, 2017. The bullish momentum in SPY could support energy demand.
US crude oil prices have risen 10% in the last one month. Higher crude oil prices have a positive impact on oil producers such as QEP Resources (QEP), Stone Energy (SGY), and Cobalt International Energy (CIE). However, crude oil prices have fallen 15% YTD due to bearish drivers.
Article continues below advertisement
Cost-cutting measures
Wall Street analysts estimate that profits for oil majors fell 20% in 2Q17 compared to 1Q17, which suggests oil majors may opt for cost-cutting measures. Oil majors performed well in 1Q17 due to cost cutting in the last few years. Brent crude oil prices averaged $53.7 per barrel in 1Q17 compared to $49.6 per barrel in 2Q17. Prices fell 7.6% between 1Q17 and 2Q17. Depressed oil prices have also motivated oil producers to cut costs.
Market moves focus on US crude oil inventories 
The U.S. Energy Information Administration will release its weekly crude oil inventory report at 10:30 AM EST on July 26, 2017.
Next, we'll look at API's crude oil and gasoline inventories.