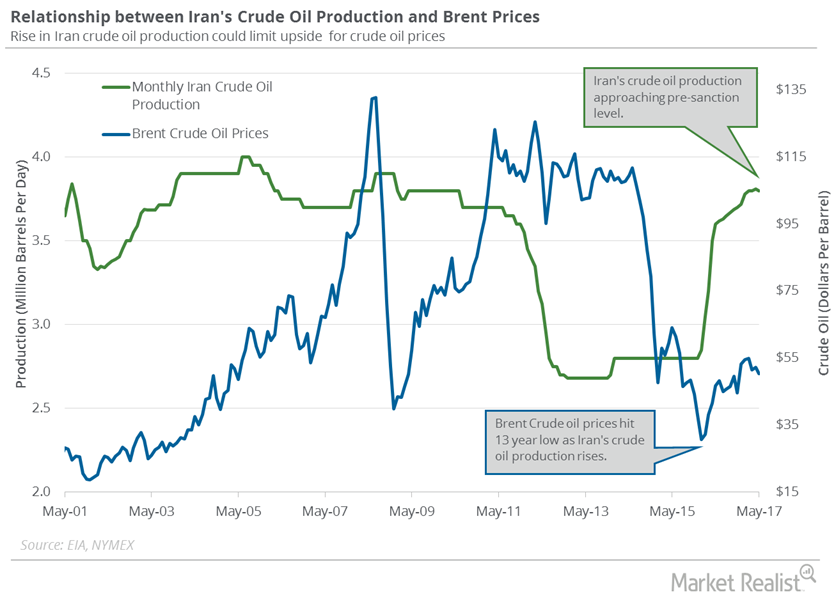 Iran's Crude Oil Exports Could Impact Crude Oil Prices
Iran's crude oil exports  
Iran is the third-largest crude oil producer among OPEC countries. Kharq terminal is the largest oil loading terminal in Iran. Iranian Oil Terminals Company (IOTC) stated that Kharq terminal's average loading capacity tripled. The loading capacity is expected to be as high as 8 MMbpd (million barrels per day).
Kharq terminal exports 95% of Iran's crude oil exports. Iran exported 2.1 MMbpd of crude oil in May 2017. The higher crude oil export capacity suggests that Iran's getting ready for a massive increase in crude oil production in 2018. Any rise in production from Iran could pressure crude oil (PXI) (BNO) (SCO) prices. Moves in crude oil prices impact on oil and gas producers like Sanchez Energy (SN), Continental Resources (CLR), and Denbury Resources (DNR).
Article continues below advertisement
Iran's crude oil production and estimates
The U.S. Energy Information Administration estimates that Iran's crude oil production was at 3.8 MMbpd in May 2017. Iran's crude oil production is at a seven-year high. Iran's oil minister plans to increase the country's oil production by 700,000 barrels per day to 4.7 MMbpd by 2021.
Impact
On June 24, 2017, Iran's oil minister stated that Iran would ramp up production by 200,000 barrels per day to 4 MMbpd after the expiry of the production cut deal in March 2018. Iran has also been blaming the US for the massive fall in crude oil prices in 2017. High production from the US and Iran over the long term could pressure oil (IEZ) (USL) prices.
In the next part of this series, we'll see how OECD crude oil inventories impact crude oil prices.