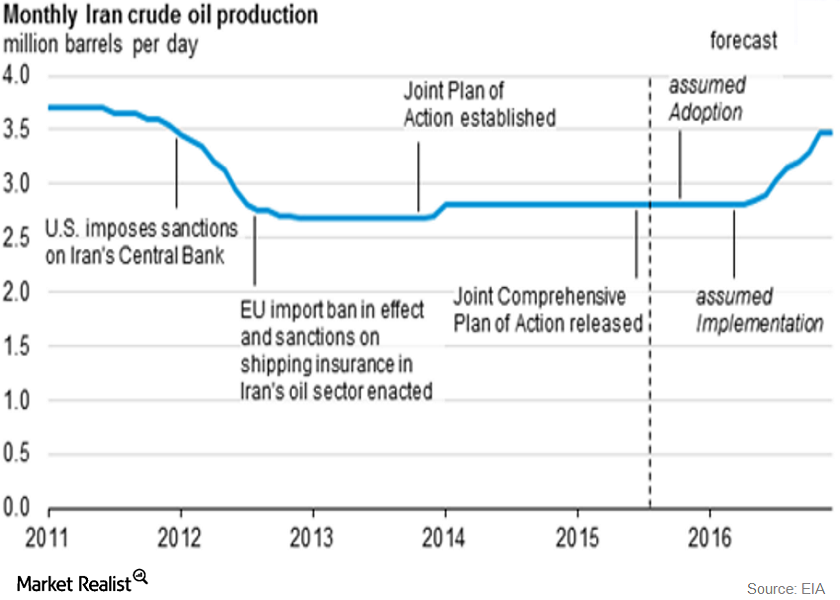 Iran's Oil Sanctions Lifted: Brent Oil Prices Feel the Heat
Iran's oil sanctions are lifted 
Iran has abided by the International Atomic Energy Agency's regulations. Thus, Iran's Western oil sanctions were lifted on Saturday, January 16, 2016. On Sunday, January 17, Iran stated that it would increase its crude oil production by 500,000 bpd (barrels per day) as soon as possible. Iran produced more than 2.5 MMbpd (million barrels per day) of crude oil in December 2015. Iran's crude oil production peaked at 5.5 MMbpd during the late 1970s. Civil war in Iran led to lower investments and a catastrophic fall in the country's crude oil production. Since 2011, Iran's crude oil output has fallen due to oil sanctions. Market surveys from Bloomberg suggest Iran could scale up production to 400,000 bpd by the end of 2016.
Article continues below advertisement
Article continues below advertisement
Effect on WTI and Brent crude oil prices 
Iran also has 30–40 MMbbls (million barrels) of crude oil in the sea. This oil will flood the market, which is already oversupplied by 2 MMbbls of crude oil. The US dollar also affects crude oil prices. The additional Iranian oil will put more pressure on global Brent crude oil prices than on the US-based WTI (West Texas Intermediate) crude oil because Brent oil is traded on a global scale more than WTI crude oil. Further, WTI crude oil is less exposed due to the 40-year export ban, which we covered in the second part of this series. Together, these factors will put more pressure on Brent oil than on WTI oil. Hence, WTI crude oil prices could rise in 2016.
Consequently, Brent crude oil prices hit 13-year lows in early trade on the Asian markets today. Early this morning, Brent crude oil prices tested a low of $27.67 per barrel, the lowest price since 2003. The catastrophic fall in oil prices could impact the margins of oil producers like ConocoPhillips (COP), Marathon Oil (MRO), Murphy Oil (MUR), Chevron (CVX), and Pioneer Natural Resources (PXD).
Record production from OPEC (Organization of the Petroleum Exporting Countries) and the tussle for market share among OPEC nations will continue to put pressure on the oil market.
Oil tracking ETFs like the United States Oil Fund (USO) and the ProShares Ultra Bloomberg Crude Oil ETF (UCO) are also influenced by lower oil prices. Read how top oil importers affect oil prices in the next part of this series.