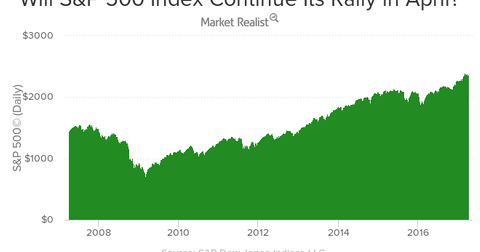 Will the S&P 500 Index Change Direction in April 2017?
By Sarah Sands

Updated
Major US indexes
In the previous part, we discussed that the market showed a weaker performance in March 2017. On March 1, 2017, the S&P 500 Index (SPY) (IVV), the Dow Jones Industrial Average (DIA), and the NASDAQ Index made new highs and closed at nearly 2,396, 21,115, and 5,904 levels, respectively. However, after March 1, 2017, indexes have been falling gradually.
[marketrealist-chart id=2013964]
Earnings growth has seen a huge contraction in recent quarters. In 4Q16, earnings for various stocks in the S&P 500 showed little improvement. However, it's expected that earnings growth will accelerate in the upcoming quarters. Now, improving figures are increasing expectations that the economy could improve in the near future.
Article continues below advertisement
What should investors expect going forward?
On the other hand, investors, corporate houses, and market participants are eagerly waiting for President Trump's proposed tax restructuring. If Trump's bill is approved according to market expectations, then we could see huge movements in the markets (VFINX) (VOO).
On March 2, 2017, Deutsche Bank's chief investment strategist wrote, "A record long U.S. economic expansion is increasingly likely." He continued, "If a significant and simple corporate tax rate cut is passed in 2017, we think the U.S. will set a new record for the number of years between recessions."
In the past four months, the markets made new highs day by day. As compared to earnings movement, index (QQQ) (VFINX) (IWM) prices have seen more upside recently. Byron Wien recently said that the market is overvalued. He also said that the market is currently digesting the gains it made earlier. The improvement in earnings growth will support the market movement further.
In the next part of this series, we'll analyze how the financial sector performed in March 2017 and what to expect in April.