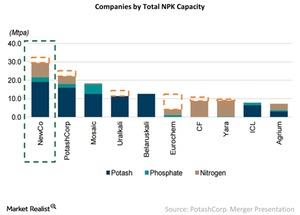 Who Are the Biggest Players in the Fertilizer Industry?
By Adam Jones

Updated
The ever-growing population
The world's population is ever-growing, and so is food consumption. However, the land available for growing crops is limited and shrinking as a ratio to population.
Limited land
Over a 20-year period, from 1993–2013, total agricultural land as a percentage of total land fell slightly. Total land largely remains unchanged. The percentage fell from 37.8% in 1993 to 37.7% in 2013, according to the World Bank's World Development Indicators.
In contrast, the world's population increased from about 5.3 billion in 1993 to 7.2 billion in 2013. So total arable land available per person obviously shrunk over that time. To put it in perspective, arable land available per person in 1993 was 0.25 hectares (~0.62 acres). In 2013, it was 0.19 hectares (~0.47 acres).
Series overview
Limited land growth and a growing population is a problem that has given rise to industries that develop technologies and products to counter the very problem described above. Those industries include fertilizers (POT) (AGU)(CF), seeds (MON), herbicides (DD) (DOW), and agricultural equipment (DE). According to the World Bank, in 2014, agriculture accounted for 3.9%, or $3.0 trillion, of the World's GDP.
In this series, we'll be taking a close look at the agricultural fertilizer industry and why it serves one of the most important functions in the agricultural sector. We'll also see what drives the demand for fertilizers and look at some of the fundamentals of companies that serve this sector (MOO).
Fertilizer stocks
Investors in fertilizer stocks (MOO) may be hoping for the agricultural business environment to show some signs of recovery, given that 2016 was dismal for this sector. The demand for fertilizers remained strong—especially for potash and nitrogen, which was evident in PotashCorp's (POT) 4Q16 earnings report. Demand should remain strong, given the importance of fertilizers. Read Agricultural Fertilizer Industry: Your Comprehensive Overview to learn more.
Performance so far
So far, the agribusiness sector appears to be outperforming the S&P 500 Index (SPY). The VanEck Vectors Agribusiness ETF (MOO), which has a third of its investments in agricultural chemical stocks, is up 4.6% as of the date of this writing, compared to 2.5% YTD (year-to-date) returns for the S&P 500.
What's the issue?
Falling fertilizer prices year-over-year are at the heart of the concern for this industry, which was mainly suppressed due to the overcapacity among industry players. Some producers curtailed their production, adjusting to demand dynamics. But as we roll into 2017, what expectations do we set from this industry? Will the price environment improve and benefit companies such as PotashCorp, Mosaic (MOS), CF Industries (CF), and Agrium (AGU)?
Series overview
In this series, we'll look at the fertilizer price outlook for nitrogen, phosphorous, and potassium fertilizers.
Returns
So far in this series, we've looked at the industry dynamics of the agricultural fertilizer industry. But perhaps the most important metric that matters most to investors is returns. With the focus on common equity investors, we've used ROE (return on equity) as a measure of return in the graph below.
Median
The industry median return for the above companies over a five-year period is about 24.0% as of 2015. CF Industries (CF) tops the list with a median ROE of 28.5%, followed by PotashCorp (POT) at 24.5%.
Similarly, CVR Partners' (UAN) ROE was 24.4% over the five-year period. Israel Chemicals' (ICL) ROE is right at the industry median, and Agrium's (AGU) is about 15.2%.
Mosaic (MOS) and Intrepid Potash (IPI) are at the bottom of the list. Mosaic's ROE was 10.0% over the five-year period, and Intrepid Potash's was 7.0%.
Companies with large operations such as PotashCorp can attain economies of scale and afford to outplay other industry participants. Intrepid Potash appears to have lost out to other potash producers.
Read on to the next part to see these companies' stock performances over a seven-year period (SOIL).
Performances of fertilizer stocks
So far in this series, we've had a comprehensive overview of the agricultural fertilizer industry. In this final part of our series, we'll see how some fertilizer stocks have performed on a CAGR (compound annual growth rate) basis.
Annualized returns
If you've invested in any of the agricultural fertilizer companies in the above graph, you've failed to beat the S&P 500 (SPY). SPY had a CAGR of 10.3% over the past seven years. CF Industries (CF) has come the closest with a CAGR of 9.0%. Agrium has also returned a healthy 7.0% on a CAGR basis, and Terra Nitrogen (TNH) has had a flat return.
But not all were winners. Intrepid Potash (IPI) had the worst performance over the past seven years with an annualized return of -32.0%. PotashCorp (POT) had an annual return of -10.0% over that period, and Mosaic (MOS) returned -9.0%. So investing in these companies would have eroded your wealth over the past seven years.
Needless to say, the past seven years saw these companies experiencing bumper years followed by the bottom cycle in the industry. Fertilizer companies (MXI) have even announced mergers and acquisitions to fuel growth.
For the 2016–2017 season, fertilizer prices remain low. Only an uptick in price will bring momentum to these stocks.
Profitability
Profitability for players in the fertilizer industry largely depends on the type of fertilizers they're exposed to the most. As we've already seen, most fertilizer companies (MOO) produce macronutrients such as NPK (nitrogen, phosphorous, and potassium).
Let's look now at EBITDA (earnings before interest, tax, depreciation, and amortization) margins for a ten-year period, which encapsulates one full agricultural business cycle that can last one to eight years.
Potash players
The median industry normalized margin for the seven companies in the above graph was 30.0% over the ten-year period that ended in 2015. We've used normalized margins since they provide a better picture of the core operations of the business.
On the left end of the spectrum, PotashCorp (POT) has a ten-year median EBITDA margin of 41.0%. The company has exposure to all three NPK fertilizers, but it's more heavily exposed to potash fertilizers. Potash fertilizers have historically had higher margins than phosphate and nitrogen fertilizers.
Intrepid Potash (IPI) has a ten-year EBITDA margin of 30.0%. The company only produces potash fertilizers. However, lately, the fall in potash prices has severely impacted the company's profitability.
Nitrogen players
CF Industries (CF) is next with an EBITDA margin of 39.0% over the ten-year period. CVR Partners (UAN) had an EBITDA margin of 36.0%. Both companies produce only nitrogen fertilizers and serve the US market, which gives them an advantage of transport cost savings.
The United States is still the net importer of nitrogen fertilizers. According to CF Industries, about 30.0% of the US nitrogen demand is fulfilled through imports.
Phosphate and others
Mosaic (MOS) is the largest producer of phosphate fertilizers. It has a ten-year EBITDA margin of 26.0%. Israel Chemicals (ICL), which also has an exposure to potash fertilizers, has a ten-year EBITDA margin of 24.0%.
Agrium (AGU) had the lowest EBITDA median margin of 13.0% over the past ten years. Unlike other companies, Agrium retails its products. The margins appear to have taken a hit by the added costs in retail business.
Now let's take a look at return on investment.
Industry players
There's a handful of big players in the agricultural fertilizer industry. Setting up business within this industry requires huge capital, which makes for a high barrier to entry. The availability of raw materials, especially for potash and phosphate, also limits entry into the fertilizer business (XLB).
Top players
The above graph shows nine top agricultural fertilizer producers by NPK (nitrogen, phosphorus, and potassium) fertilizer types. PotashCorp (POT), which recently announced a merger with Agrium (AGU), will become the largest player within the industry by capacity. Mosaic (MOS), which produces potash and phosphate fertilizer, is next. These three companies are based in North America. The orange dashed lines in the graph show expected capacity expansion.
Uralkali and Belaruskali are the largest producers of potash fertilizers in Eastern Europe. EuroChem, which is headquartered in Switzerland, is the fifth largest producer by capacity, followed by CF Industries (CF), which is headquartered in the United States. Yara International is headquartered in Norway, and Israel Chemicals (ICL) is headquartered in Israel.
Reserves
Potash and phosphate input materials are limited by globally available reserves. Almost 81.0% of known potash reserves are concentrated in Canada and Russia, while about 75.0% of known phosphate rock reserves are concentrated in Morocco and Western Sahara. As for nitrogen fertilizers, the key input material is natural gas or anthracite coal, which are abundantly available.
So the potash and phosphate fertilizer industry is more concentrated than the nitrogen fertilizer industry, which has far more players around the globe.