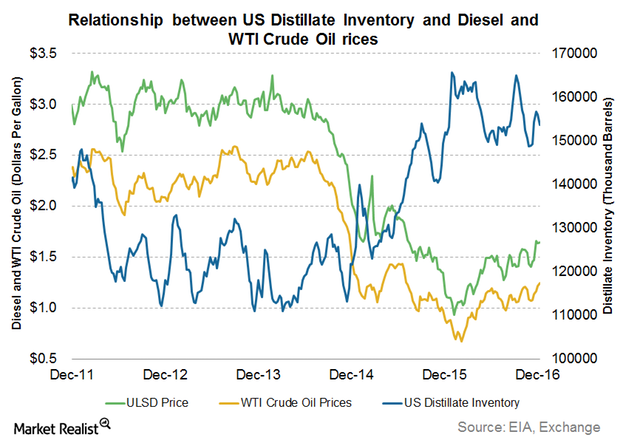 US Diesel Futures Follow Crude Oil Prices
Diesel futures 
February 2017 NY Harbor ULSD futures fell 1.8% and settled at $1.66 per gallon on December 21, 2016. Diesel futures fell despite the decline in distillate inventories.
Bearish momentum in crude oil (BNO) (PXI) (USO) (USL) (ERX) prices pressured diesel prices. Read Will Crude Oil Prices Maintain Their Bullish Momentum? for more on crude oil prices.
Article continues below advertisement
US on-highway diesel fuel prices  
The EIA (U.S. Energy Information Administration) reported that US on-highway diesel fuel prices rose 1.2% to $2.52 per gallon for the week ending December 19, 2016—compared to the previous week. So far, it's the highest level in 2016. Likewise, US residential heating oil prices rose 1.5% to $2.57 per gallon for the same period.
Heating oil and diesel fuel price forecasts for 2016  
The EIA reported that heating oil prices could average $2.12 per gallon in 2016 and $2.62 per gallon in 2017. Heating oil prices averaged $2.65 per gallon in 2015. On-highway diesel fuel prices will likely average $2.31 per gallon in 2016 and $2.70 per gallon in 2017. Diesel fuel prices averaged $2.71 per gallon in 2015.
US distillate inventories drive heating oil and diesel fuel prices. Distillates consist of diesel fuel and heating oil. Please read the last part of this series to learn more about US distillate inventories.
Impact on energy stocks and ETFs 
Lower gasoline, diesel fuel, and crude oil prices could have a negative impact on US refiners and oil producers such as Valero Energy (VLO), Northern Oil & Gas (NOG), Northern Tier Energy (NTI), Swift Energy (SFY), and Western Refining (WNR).
The rollercoaster ride in crude oil and gasoline prices also impacts ETFs and ETNs such as the First Trust Energy AlphaDEX Fund (FXN), the Fidelity MSCI Energy (FENY), the iShares U.S. Oil Equipment & Services ETF (IEZ), the United States Gasoline Fund (UGA), and the ProShares UltraShort Bloomberg Crude Oil ETF (SCO).
In the next part of this series, we'll take a look at US distillate inventories.