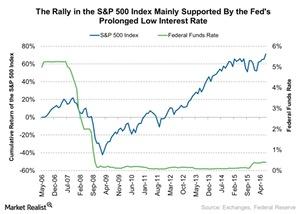 What's J.P. Morgan's View on the Central Bank?
By Sarah Sands

Updated
Samantha Azzarello's view on the central bank
Samantha Azzarello, a global market strategist at J.P. Morgan Funds, thinks that the central bank's monetary stimulus is the major reason behind the economy (IWM) (QQQ) and market movement.
In the past, we saw that the Fed's persistent lower interest rate supported the movement of the S&P 500 index (SPY). As we discussed in the previous part, lower interest rates allow more liquidity in the economy. It allows more borrowing, business spending, and consumer spending. According to Azzarello, the central bank's monetary stimulus can do everything, which will be a little difficult for the fiscal stimulus.
Article continues below advertisement
If the lower interest rates are used correctly, it can be a boon for the economy. However, in the last few months, we saw that corporates used cheap money to increase shareholder value by paying a higher dividend and share buyback. Corporate earnings became stagnant in past quarters. Business spending also isn't accelerating in the economy due to increasing uncertainty in the US economy (VFINX) (SPY) (IVV) ahead of the US presidential election.
Will fiscal stimulus increase in the US economy?
Azzarello spoke about the fiscal stimuli announced by both US presidential candidates. Hillary Clinton announced that if she's elected, she would introduce a $275 billion five-year infrastructure plan, which would increase US (VOO) government spending. On another side, Donald Trump promised to invest in infrastructure and defense, build a wall on the US-Mexico (EWW) border, and create jobs. His focus on defense would boost the US defense sector (ITA) (XAR). Electing either candidate will increase the fiscal stimulus in the economy. However, Azzarello thinks that monetary stimulus is the major driver for economic growth.
In the next part of this series, we'll analyze Francisco Blanch's view on crude oil.