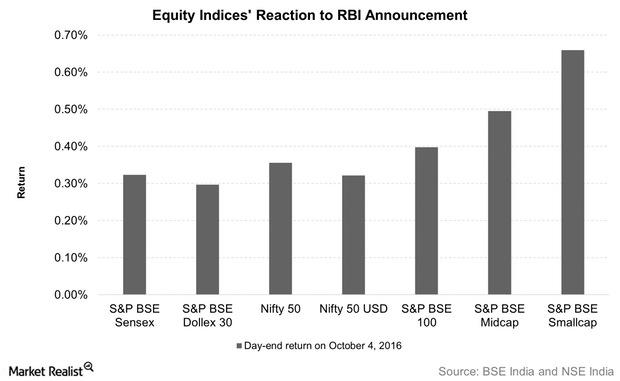 Indian Equities Rise after the RBI's October 2016 Monetary Policy Announcement
By David Ashworth

Oct. 5 2016, Updated 4:41 p.m. ET
Equities gain
Indian equities rose on October 4, 2016, the day of the RBI's (Rerserve Bank of India) latest monetary policy announcement. The central bank's cut of its repo rate had a positive effect on equities, with bonds rising initially along with the Indian rupee. Banking and telecom stocks were among major gainers during the day.
Meanwhile, benchmark equity indexes like the S&P BSE Sensex and the Nifty 50 rose 0.3% and 0.4%, respectively, for the day. Their US dollar equivalents, the S&P BSE Dollex 30 and the Nifty 50 USD, had each risen 0.3% at closing on the day of the policy announcement.
Article continues below advertisement
The S&P BSE 100, which covers a broader segment of the market with 100 stocks compared to the S&P BSE Sensex's 30, rose 0.4% for the day. Mid- and small-cap stocks were thrilled by the rate cut and did better than the broad market. Mid-cap stocks, represented by the S&P BSE Midcap Index, rose 0.5% for the day, while small-cap stocks, represented by the S&P BSE Smallcap Index rose 0.7%.
Investors should note that except the Dollex 30 and Nifty 50 USD, returns are in Indian rupee terms.
The reaction of Indian ADRs listed on US exchanges
The ADRs (American depositary receipts) of Indian companies listed on US exchanges were mixed on October 4. Vedanta Limited (VEDL) was the biggest gainer, rising 3% for the day. Banks also emerged as gainers, with ICICI Bank (IBN) rising 1.2% and HDFC Bank (HDB) rising 1%. The laggards were led by Dr. Reddy's Laboratories (RDY), which fell 1.1%. Wipro (WIT) and Tata Motors (TTM) also fell on October 4.
India-focused funds
All India-focused mutual funds posted gains on October 4. The Franklin India Growth Fund Class A (FINGX) was the biggest gainer, rising 0.4% for the day, while the Matthews India Investor (MINDX) showed the slightest rise of 0.1%. On the other hand, all major India-focused ETFs, including the WisdomTree India Earnings ETF (EPI), the iShares MSCI India (INDA), and the PowerShares India ETF (PIN) fell for the day.
Continue to the next and final part of this series for a discussion about the timing of the RBI's repo rate cut.