Tesla Stock in 2022 — Analysts Have Mixed Views on How Low It Could Go
EV stocks have been under pressure in 2022. Tesla (TSLA) has lost about a quarter of its market cap in 2022 and is down 37 percent from its 52-week highs. The stock is in a bear market territory now after falling over 20 percent from the recent highs.
Article continues below advertisement
While Tesla stock has fallen in 2022, it's outperforming other EV companies on a relative basis. Lucid Motors and Rivian, both touted as the "next Tesla" and "Tesla killers," now trade at a fraction of their 2021 highs. How low can Tesla stock go in 2022 and can it continue to be a relative outperformer in the year?
TSLA's stock price has been soaring since 2019.
Tesla stock has witnessed a splendid rally since the fourth quarter of 2019. The stock rose 740 percent in 2020 and added another 50 percent to its market cap in 2021. The stock has been outperforming other EV companies in strong and weak markets.
Article continues below advertisement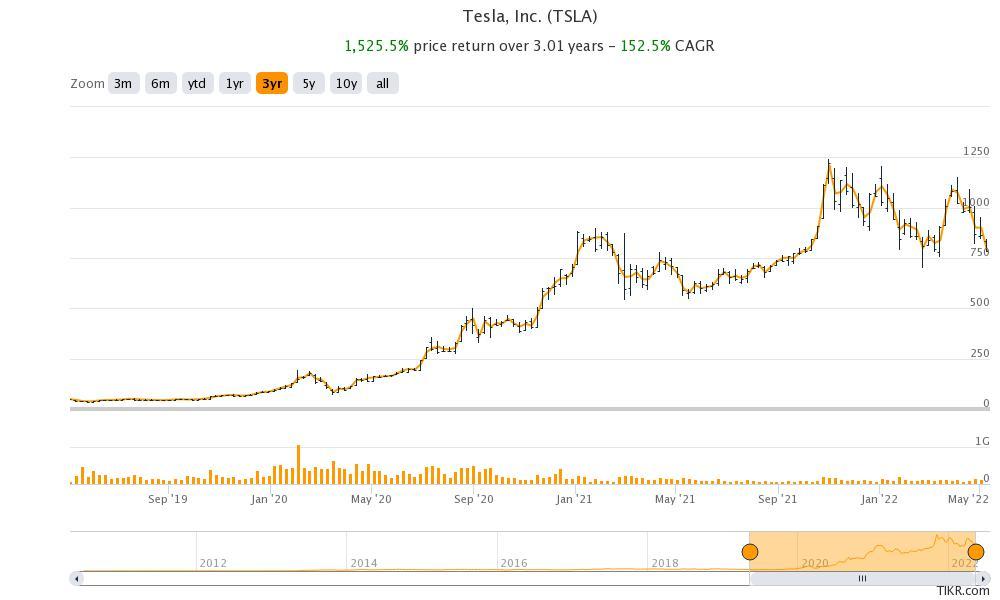 Markets are giving a premium to Tesla stock for its execution capacities, especially at a time when most electric vehicle startups have faltered on their production plans.
Article continues below advertisement
How low can Tesla's stock price go in 2022?
Roth Capital, which is one of the most bearish analysts covering Tesla, has a $250 target price on the stock. This would mean the stock dropping 68 percent from these price levels. If Roth Capital's view materializes, Tesla's market cap should plummet to around $260 billion.
Article continues below advertisement
What's Tesla's stock forecast?
Tesla is arguably the most polarizing company among publicly traded companies. The polarization is also reflected in analysts' forecasts for Tesla stock. The stock's target price ranges from $250 to $1,620 while the median target price is $1,138. Over the last six months, several bearish analysts have also been raising Tesla's target price.
In October 2021, Roth Capital raised Tesla's target price from $150 to $250. In April, Citi raised the stock's target price from $313 to $375. The same month, JPMorgan Chase, which is among the most vocal Tesla bears, raised the stock's target price from $335 to $395.
Article continues below advertisement
The brokerage has been gradually raising Tesla's target price and has been particularly impressed by its strong delivery reports amid the global ship shortage.
Article continues below advertisement
Some analysts find TSLA stock overvalued.
Bernstein also raised Tesla's target price by 50 percent to $450 in February. While Bernstein analyst Toni Sacconaghi said that Tesla's valuation is reasonable compared to other high-growth tech companies, he argued that Tesla isn't a tech company in a strict sense considering the cyclicity of the automotive industry. Overall, he doesn't think that the stock's risk-return is attractive.
Article continues below advertisement
Is Tesla stock a good buy at these prices?
Valuing Tesla has always been a conundrum. Even Ashwath Damodaran, also known as the "dean of valuation," values the company much below its current market cap. The entire debate over Tesla revolves around whether it's a tech company or an automotive company.
If we compare TSLA to other automotive companies, it isn't possible to justify its current stock price. Analysts who see it as an automotive company forecast the stock crashing upwards of 50 percent from these levels.
Article continues below advertisement
However, TSLA bulls point to the software side of the business. Even Tesla CEO Elon Musk thinks that most of the company's worth comes from the yet-to-be-launched robotaxis and the Autopilot, whose price Musk has forecast would rise to $100,000 over time.
Article continues below advertisement
For those who believe in Musk and Tesla's software capabilities, Tesla stock might be a good buy after the recent crash.
What does Musk's Twitter purchase mean for Tesla stock?
Along with the broader market weakness, Musk purchasing Twitter, especially rumors of him becoming Twitter's CEO, are making investors apprehensive. Jack Dorsey quit as Twitter's CEO to focus on Square, which is now known as Block. The last thing Tesla investors would want is Musk splitting his time between Tesla and Twitter.