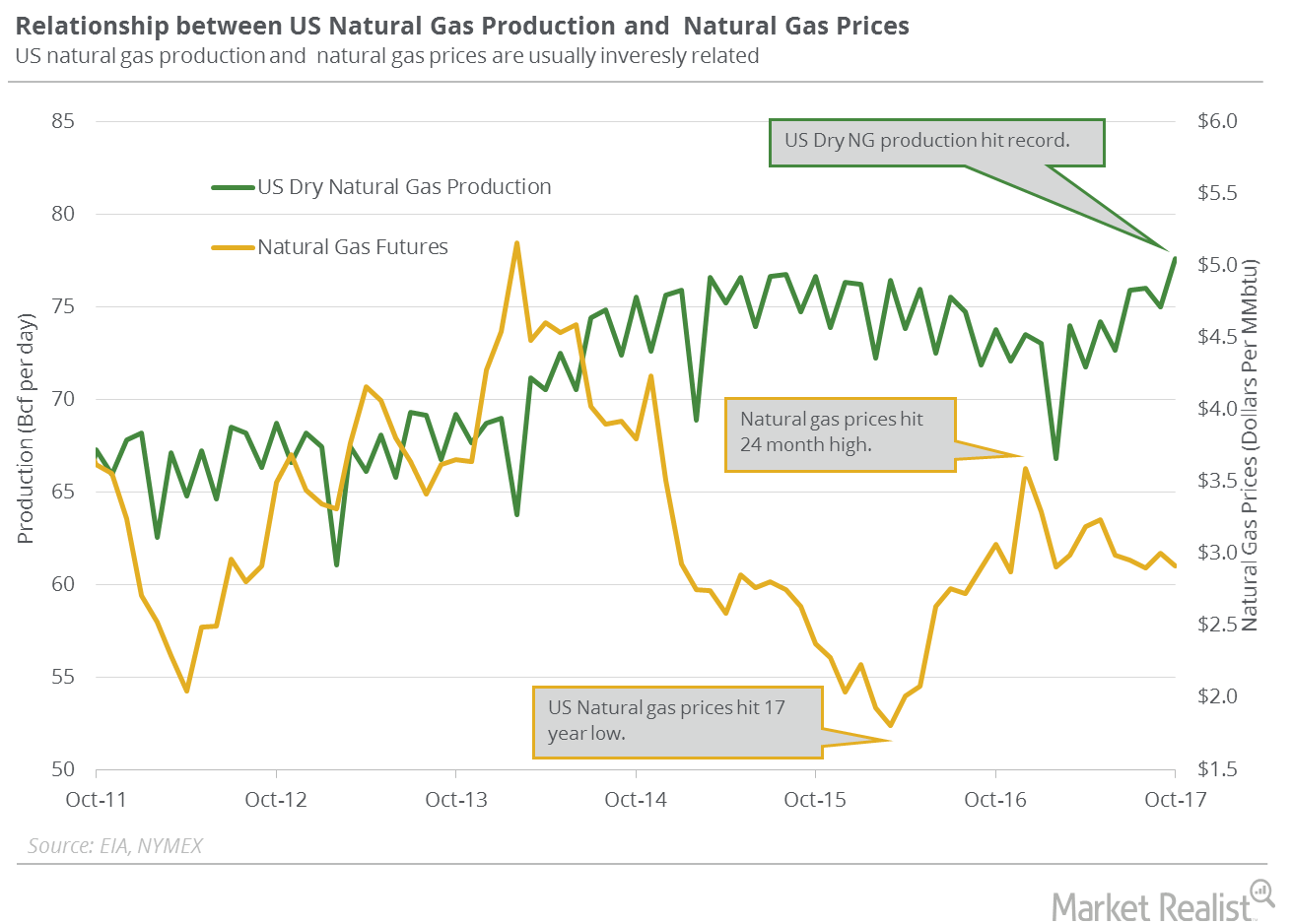 Will US Natural Gas Production Hit a Record in 2018 and 2019?
Weekly US natural gas production 
US dry natural gas production rose by 1.2 Bcf (billion cubic feet) per day or 1.6% to 74 Bcf per day on January 4–10, 2018, according to PointLogic. The production also rose by 6.2 Bcf per day or 9% from a year ago.
Natural gas prices (UGAZ) (UNG) fell ~12% in the last 12 months partly due to oversupply. Reuters estimates that dry natural gas production in the lower 48 states of the US could rise next week. Any rise in natural gas production is bearish for natural gas (DGAZ) prices.
Article continues below advertisement
Drivers of natural gas production 
Higher crude oil prices and the increasing natural gas pipeline capacity have been driving the rise in natural gas production. US oil (USO) (UCO) prices rose ~22% in the last 12 months, while US natural gas prices (UNG) fell 12% during this period.
Annual US natural gas production has risen 48% since 2005. Natural gas is usually an associated product of crude oil. Higher oil (SCO) prices in 2018 would increase US oil rigs, which would increase natural gas supplies.
Higher oil (USL) prices would increase the US drilling activity. It benefits energy producers (XLE) and drillers (IEZ) like Range Resources (RRC), WPX Energy (WPX), and Transocean (RIG).
Natural gas production estimates 
US natural gas production averaged 72.85 Bcf per day in 2016 and 73.57 Bcf per day in 2017. The EIA released its monthly STEO (Short-Term Energy Outlook) report on January 9, 2018. It estimates that US natural gas production could average ~80.42 Bcf per day in 2018, which is 0.9% higher than the December 2017 estimates. Production is expected to average ~83.02 Bcf per day in 2019. The annual US natural gas production average would hit a record in 2018 and 2019.
Impact
US natural gas production is expected to rise 9.3% in 2018 from 2017. The record US natural gas production would be the biggest threat to natural gas (GASL) prices in 2018.
Next, we'll discuss US natural gas consumption.