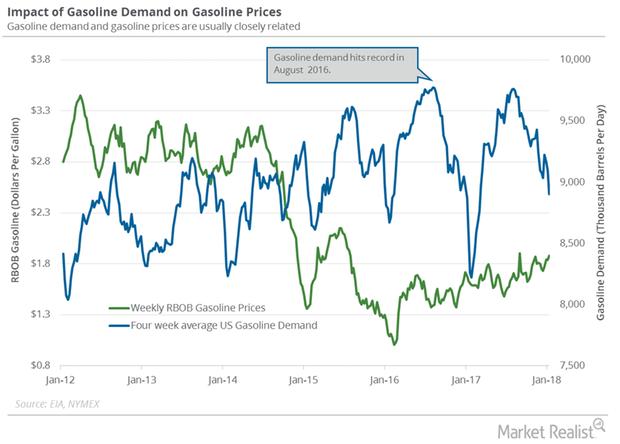 US Gasoline Demand Could Extend the Crude Oil Price Rally
US gasoline demand 
The EIA estimated that four-week average US gasoline demand decreased by 190,000 bpd (barrels per day) to 8,904,000 bpd on January 5–12, 2018. However, demand increased by 333,000 bpd or 3.8% from a year ago.
The year-over-year increase in gasoline demand has a positive impact on gasoline and oil (DBO) (DWT) prices. Higher gasoline (UGA) prices favor US refiners (CRAK) like Marathon Petroleum (MPC) and PBF Energy (PBF).
Article continues below advertisement
US gasoline demand peak and low
US gasoline demand tested 9,776,000 bpd in August 2016—the highest level ever. In contrast, gasoline demand tested 8,222,000 bpd in January 2017—the lowest level since February 2012.
Gasoline prices and demand are usually closely related. The EIA estimates that gasoline prices move together with crude oil (USO) prices. Crude oil (UCO) prices are at a three-year high. It benefits energy producers (XOP) (XES) like Sanchez Energy (SN), Chevron (CVX), and Stone Energy (SGY).
US gasoline consumption estimates
According to the EIA, US gasoline consumption averaged 9,320,000 bpd in 2016. It hit a record in 2016. However, consumption dropped 0.2% to average 9,300,000 bpd in 2017. US gasoline consumption could average 9,330,000 bpd in 2018 and 9,390,000 bpd in 2019, according to the EIA. Gasoline consumption could hit a new record in 2018 and 2019. The expectation of a rise in vehicle miles traveled in the US throughout 2019 contributes to the rise in gasoline demand.
Impact