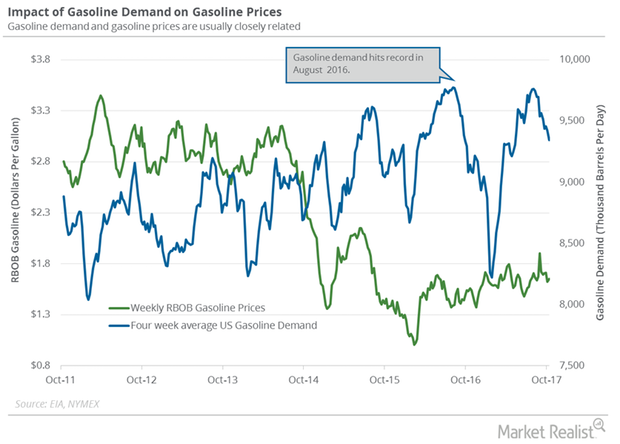 US Gasoline Demand Hit an All-Time High in August
US gasoline demand 
Gasoline demand rose by 178,000 bpd (barrels per day) or 2% to 9,314,000 bpd on October 13–20, 2017. The demand has risen by 116,000 bpd or 2.1% YoY (year-over-year). Any rise in gasoline demand is bullish for gasoline (UGA) and crude oil (OIL) (USL) (DBO) prices.
On October 31, 2017, the EIA (U.S. Energy Information Administration) reported that US gasoline demand rose by 197,000 bpd (barrels per day) to 9,770,000 bpd in August 2017—compared to the previous month. It was the highest level ever. US gasoline demand has risen 2.1% month-over-month and 0.9% or by 83,000 bpd YoY. Record gasoline demand was bullish for gasoline and crude oil (UWT) (DWT) prices.
Article continues below advertisement
Weekly US gasoline demand's peak and low 
US gasoline demand peaked at 9,800,000 bpd in July 2017. In contrast, gasoline demand hit 8,000,000 bpd in January 2017—the lowest level since February 2014. The demand has risen 16.4% or by 1,314,000 bpd from the lows in January 2017. Changes in the demand impact gasoline prices, which impact US refiners (CRAK) like PBF Energy (PBF), Phillips 66 (PSX), Alon USA Energy (ALJ), and Tesoro (TSO).
US gasoline consumption estimates  
According to the EIA, US gasoline consumption will likely average 9,320,000 bpd and 9,370,000 bpd in 2017 and 2018, respectively. US gasoline consumption could hit an annual record in 2018. Meanwhile, US gasoline consumption averaged a record 9,320,000 bpd in 2016.
Impact 
Record gasoline demand could benefit gasoline prices, which could even push crude oil (USO) (UCO) prices higher. Moves in oil prices impact energy producers (IYE) (FXN) like Newfield Exploration (NFX), QEP Resources (QEP), and Energen (EGN).
In the next part, we'll discuss how OPEC's crude oil production in October impacts oil prices.