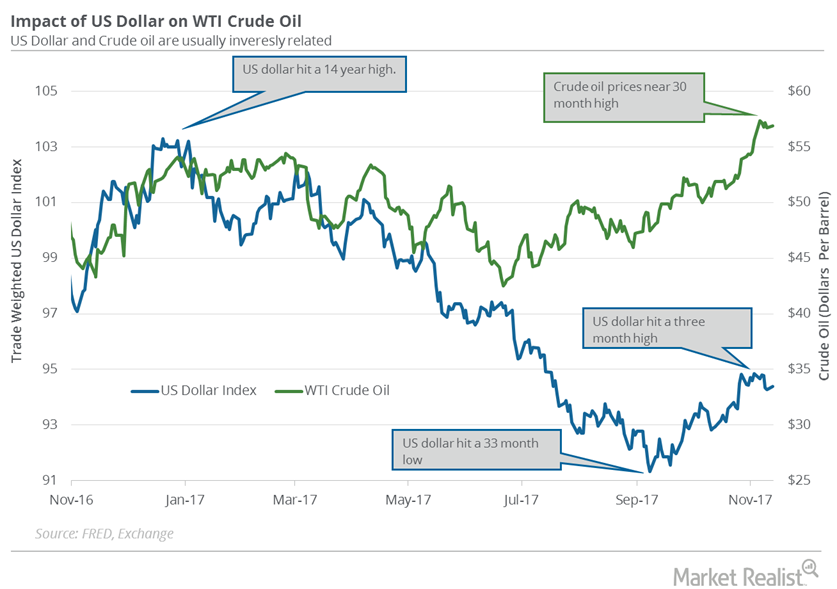 US Dollar Could Pressure Crude Oil Futures This Week
US Dollar Index  
The US Dollar Index rose 0.13% to 94.4 on November 13, 2017. It limited the upside for US crude oil (UWT) (DWT) prices on the same day. However, the US dollar fell ~0.6% compared to the basket of currencies last week. The US dollar (UUP) fell last week due to the delay in the proposed US tax bill. The US tax bill might be delayed until 2019. The bill intends to reduce US corporate and household taxes.
Article continues below advertisement
US dollar's highs and lows  
The US dollar (USDU) tested 103.8 on January 3, 2017—the highest level in 14 years. On the other hand, it tested a low of 90.99 on September 8—the lowest level in 33 months.
The US dollar has risen 3.7% since the lows on September 8, 2017, due to strong US employment data and the improving US economy. The US stock markets (SPY) (DIA) are near record levels, which also supported the US dollar.
The retails sales figure and inflation data are due this week. Better-than-expected inflation data could support the US dollar this week. The expectations of a strong US dollar could cap the upside for crude oil prices.
US dollar and crude oil 
Crude oil (DTO) (UCO) and US dollar prices are generally inversely related. US oil prices are near a 30-month high. High oil prices support energy producers (PXI) (IEZ) like Occidental Petroleum (OXY), Newfield Exploration (NFX), and Energen (EGN).
The Fed might raise US interest rates in December 2017 and even in 2018, which could strengthen the US dollar. A strong US dollar could cap the upside for crude oil prices.
In the next part, we'll discuss how Cushing inventories impact oil prices.