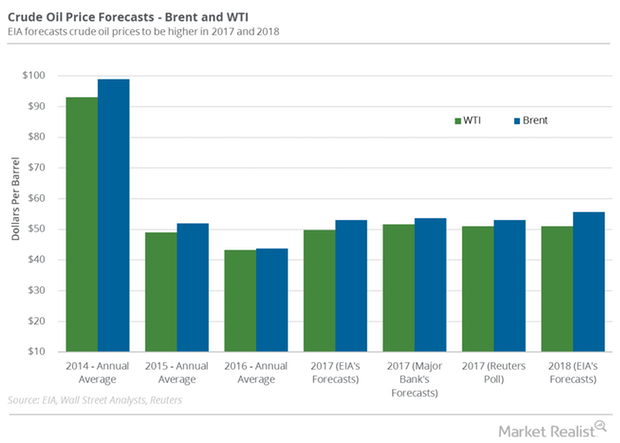 Hedge Funds' Net Long Positions on US Crude Oil
Hedge funds 
The U.S. Commodity Futures Trading Commission released its weekly "Commitment of Traders" report on November 17, 2017. It stated that hedge funds increased their net long positions in US crude oil (UWT) (DWT) futures and options by 31,906 contracts to 349,712 contracts on November 7–14, 2017. Positions increased 10% week-over-week and 114.1% or by 186,391 contracts year-over-year.
Hedge funds' net bullish positions in WTI crude oil (UCO) (USO) futures and options are at a seven-month high. It signals that hedge funds are bullish on crude oil (SCO) (DBO) prices ahead of OPEC's meeting.
Article continues below advertisement
Crude oil price forecasts  
Energy intelligence company FGE expects that Brent crude oil prices could trade between $65 and $70 per barrel in 2018 if ongoing production cuts are extended until December 2018.
Meanwhile, a market survey of energy producers' (VDE) (IEZ) top management estimated that oil (BNO) (USL) prices could trade lower than $60 per barrel in 2018.
The EIA estimates that US crude oil (SCO) (DWT) prices could average $51.04 per barrel in 2018, while Brent oil prices could average $55.61 per barrel in 2018. US crude oil production could be the biggest bearish driver for oil prices in 2018.
Read Crude Oil: Will the Bears Overshadow the Bulls? and Will US natural gas futures continue its downward momentum next week? for updates on oil and gas.