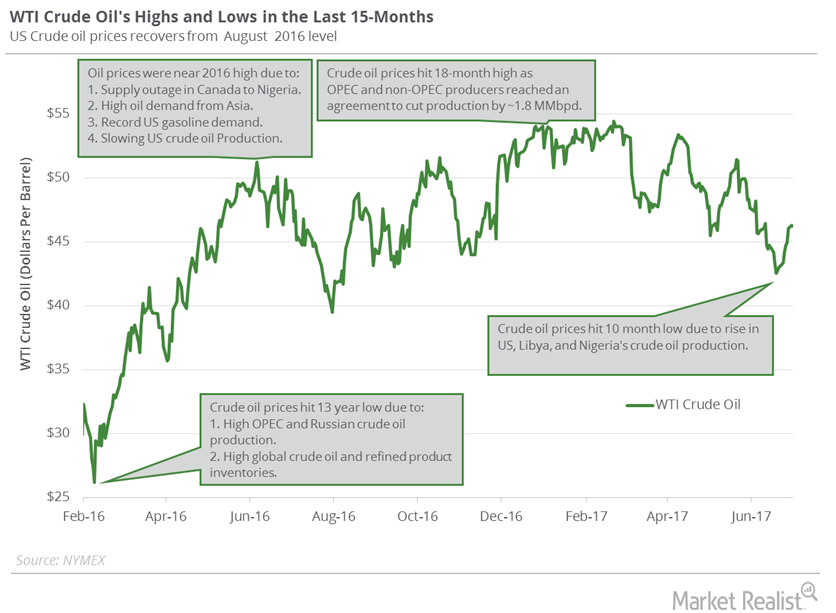 Geopolitical Tension Could Drive Brent and US Crude Oil Futures
US crude oil futures 
Brent crude oil futures fell 0.7% to $49.61 per barrel on July 4, 2017. August WTI (West Texas Intermediate) crude oil (XLE) (XOP) (PXI) futures contracts rose in electronic trading. Trading was thin due to the US Independence Day holiday on July 4, 2017.
US crude oil futures rose for the ninth consecutive day. Prices are near a one-month high due to short covering and the fall in monthly US crude oil production. For more on bullish drivers, read Crude Oil Futures Rose for the Seventh Straight Day.
Article continues below advertisement
Crude oil performance
Brent and US crude oil futures have risen more than 11%—compared to the ten-month low they hit on June 21, 2017. Both of the benchmarks have fallen almost 17% year-to-date due to the rise in crude oil production from the US, Libya, and Nigeria.
Geopolitical tensions
North Korea's multiple missile tests and geopolitical tension between Qatar and Middle East countries could cause a supply outage, which could support crude oil prices. On July 5, 2017, ANZ Bank stated that geopolitical tension could benefit crude oil (XLE) (XOP) and gold (GLD) prices in the short term.
Higher crude oil prices have a positive impact on oil and gas exploration and production companies' earnings like Bill Barrett (BBG), Chevron (CVX), Hess (HES), and Bonanza Creek Energy (BCEI).
Russia's crude oil production
Bloomberg surveys project that Russia produced 11.05 MMbpd (million barrel per day) of crude oil in June 2017. Russian government officials stated that Russia would continue the production cut deal until March 2018. Russia might not support deeper or longer production cuts. Deeper or longer cuts might indicate oversupply in the market, which could weigh on crude oil prices.
Next, we'll look at crude oil drivers and US crude oil prices in early morning trade.