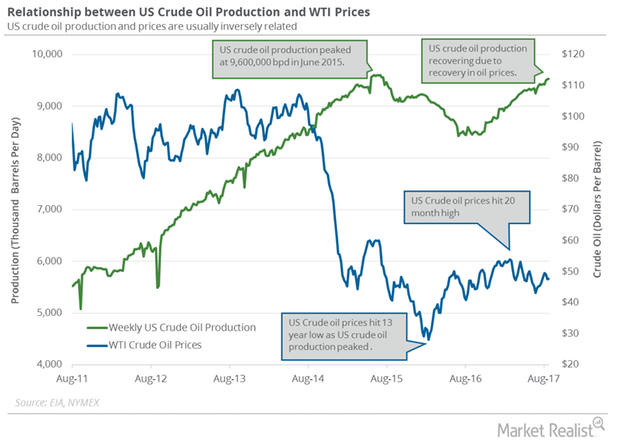 How Hurricane Harvey May Impact US Crude Oil Production
US crude oil production 
The EIA (U.S. Energy Information Administration) estimates that US crude oil production rose by 2,000 bpd (barrels per day) to 9,530,000 bpd between August 18 and 25, 2017. Production rose 1,042,000 bpd, or 12.3%, from the same period in 2016. It has risen for three consecutive weeks to August 25, and has reached the highest level since July 17, 2015.
High production pressured crude oil (USO) (UCO) prices. As a result, US crude oil (RYE) (VDE) futures have fallen 17.4% YTD (year-to-date). Lower crude oil (DIG) (SCO) prices impact oil and gas producers such as Apache (APA), Noble Energy (NBL), Northern Oil & Gas (NOG), and Triangle Petroleum (TPLM).
Article continues below advertisement
US crude oil production's peaks and lows
US crude oil production hit 8.4 MMbpd in July 2016, its lowest level since May 2014. It hit a high of 9.6 MMbpd (million barrels per day) in June 2015. Production rose due to a recovery in crude oil prices, as shown in the chart above. Technological advancements and improving efficiency supported production.
US crude oil production estimates 
US crude oil production could average 9.4 MMbpd in 2017 and 9.9 MMbpd in 2018. Production could hit a record high in 2018. US crude oil production averaged 8.9 MMbpd in 2016.
US crude oil production and Hurricane Harvey 
Hurricane Harvey hit Texas on August 36, 2017, bringing massive rain and flooding. It led to the shutdown of many refineries and oil production units. Goldman Sachs estimates that 1.4 MMbpd, or 15%, of US crude oil production was disrupted due to hurricane Harvey. Whereas the supply outage looks bullish for crude (XES) (IEZ) prices in the short term, high US crude production could weigh on oil prices over the long term. In the next part of this series, we'll look at US gasoline inventories.