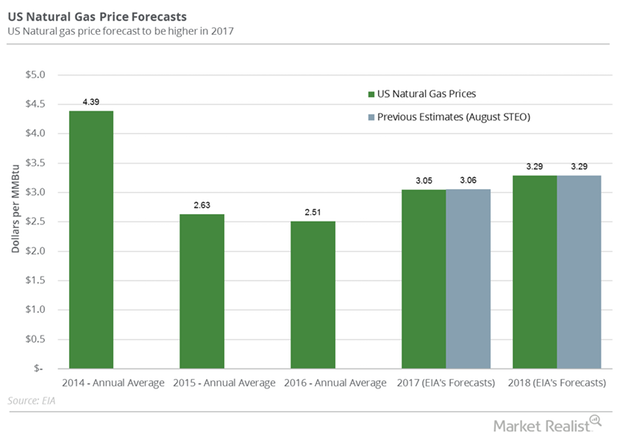 How Hedge Funds Feel about Natural Gas Right Now
Hedge funds 
On September 29, the CFTC (U.S. Commodity Futures Trading Commission) is slated to release its weekly "Commitment of Traders" report.
In its previous week's report, the CFTC reported that hedge funds increased their net long positions in US natural gas futures and options contracts by 50,127 contracts to 136,543 from September 12 to 19. Net long positions rose 58% week-over-week and 22% year-over-year.
Hedge funds' net long positions are at their highest level since May 30, which suggests that hedge funds are bullish on US natural gas (UNG)(GASL)(DGAZ) prices.
Higher natural gas prices have a positive impact on oil and gas producers' (RYE)(XES) earnings like Cimarex Energy (XES), WPX Energy (WPX), and EQT (EQT).
Article continues below advertisement
US natural gas price forecasts 
Energy consulting company Schork Group suggests that natural gas traders should buy natural gas when prices trade below $3 per MMBtu (million British thermal units). The Schork Group expects that natural gas prices could skyrocket when US natural gas exports rise in 2018. It estimates that US natural gas prices could trade between $3.50 and $4 per MMBtu in the next two years.
According to Aegent Energy Advisors, US natural gas (UGAZ)(FCG) prices won't exceed $3.06 per MMBtu between September 2017 and October 2017.
The EIA (U.S. Energy Information Administration) estimates that US natural gas prices could average $3.05 per MMBtu in 2017 and $3.29 per MMBtu in 2018. Prices could rise in 2018 due to the rise in natural gas exports and a rise in domestic natural gas consumption. US natural gas prices averaged $2.63 per MMBtu in 2015 and $2.51 per MMBtu in 2016.
For crude oil price forecasts, see Will Brent and US Crude Oil Prices Rise in 2018?
Also, see Are US Crude Oil Supplies Getting Bearish for Oil Prices? and Will the US Crude Oil Bull Market Be Short-Lived?