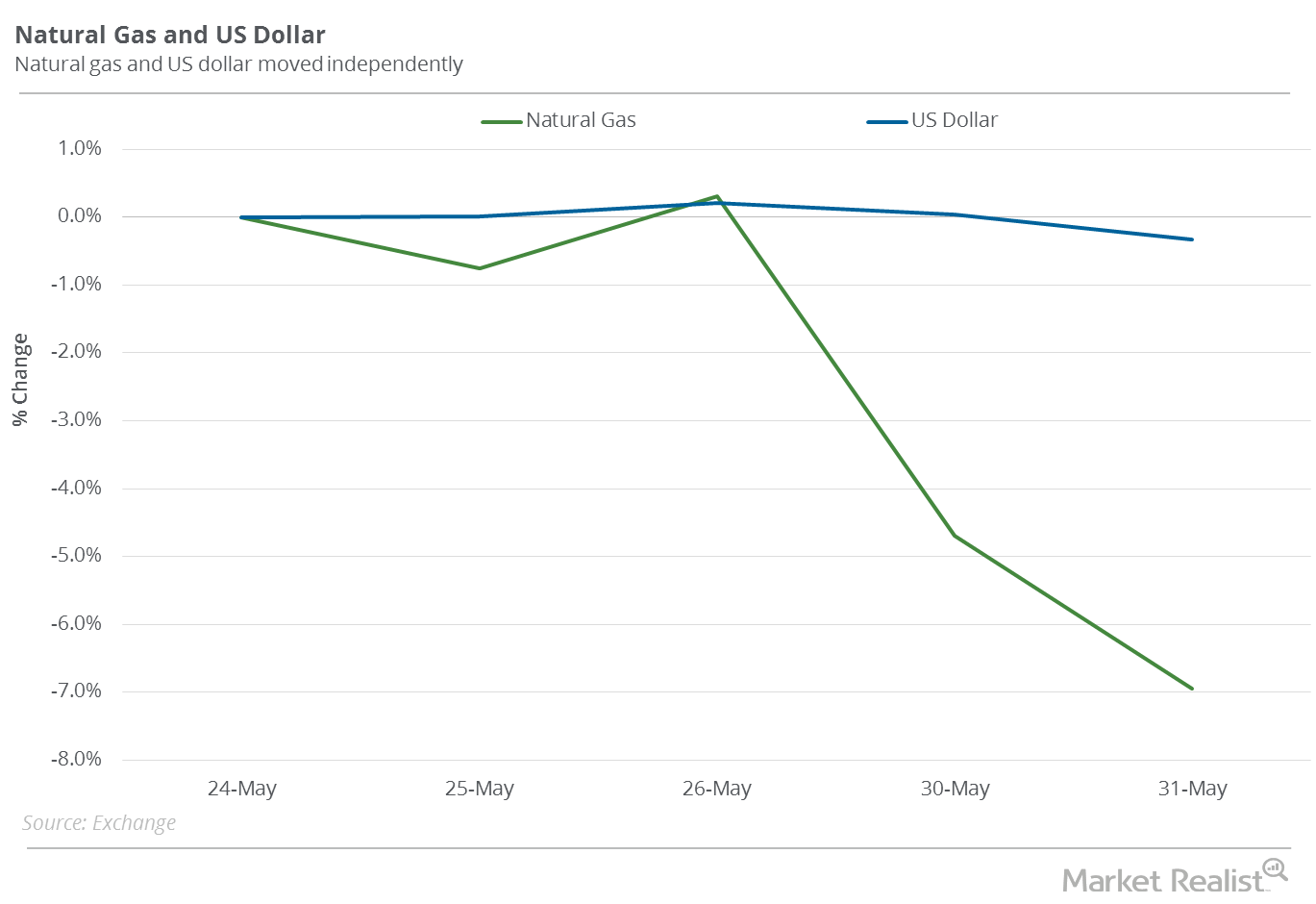 Is the US Dollar a Factor in Natural Gas's Current Downturn?
US dollar has limited role in natural gas's fall
In only one out of the last four trading sessions, natural gas futures moved opposite the US dollar. The correlation between the two in the last week stood at 71.2%.
The weaker US dollar could be a cost advantage for a commodity-importing country. However, natural gas exports were earlier limited to Canada and Mexico. So, the impact of the US dollar on natural gas prices was limited. However, in February 2016, the US started exporting natural gas in liquefied form from the lower 48 states to outside North America.
Article continues below advertisement
Article continues below advertisement
Has US dollar impacted natural gas since March 2016?
Between March 3, 2016, and May 31, 2017, natural gas active futures rose 87.2% compared to a 0.4% fall in the US dollar. On March 3, 2016, natural gas active futures fell to their 17-year low.
The two moved in opposite directions in 165 out of 314 trading sessions. The correlation between the two was just at 7.1%. The correlation doesn't suggest an inverse relationship between them over the long term.
President Trump's climate policy and natural gas
Recent news suggests that US President Donald Trump could exit the historic Paris climate agreement signed by his predecessor. If this happens, it could boost the production of natural gas and the use of fossil fuels like coal in electricity generation. Both these could mean increased natural gas supply. High supplies of natural gas could lead to higher natural gas exports outside the United States, which could increase the inverse relationship between natural gas and the US dollar like in the case of crude oil.
The relationship could impact the following ETFs: