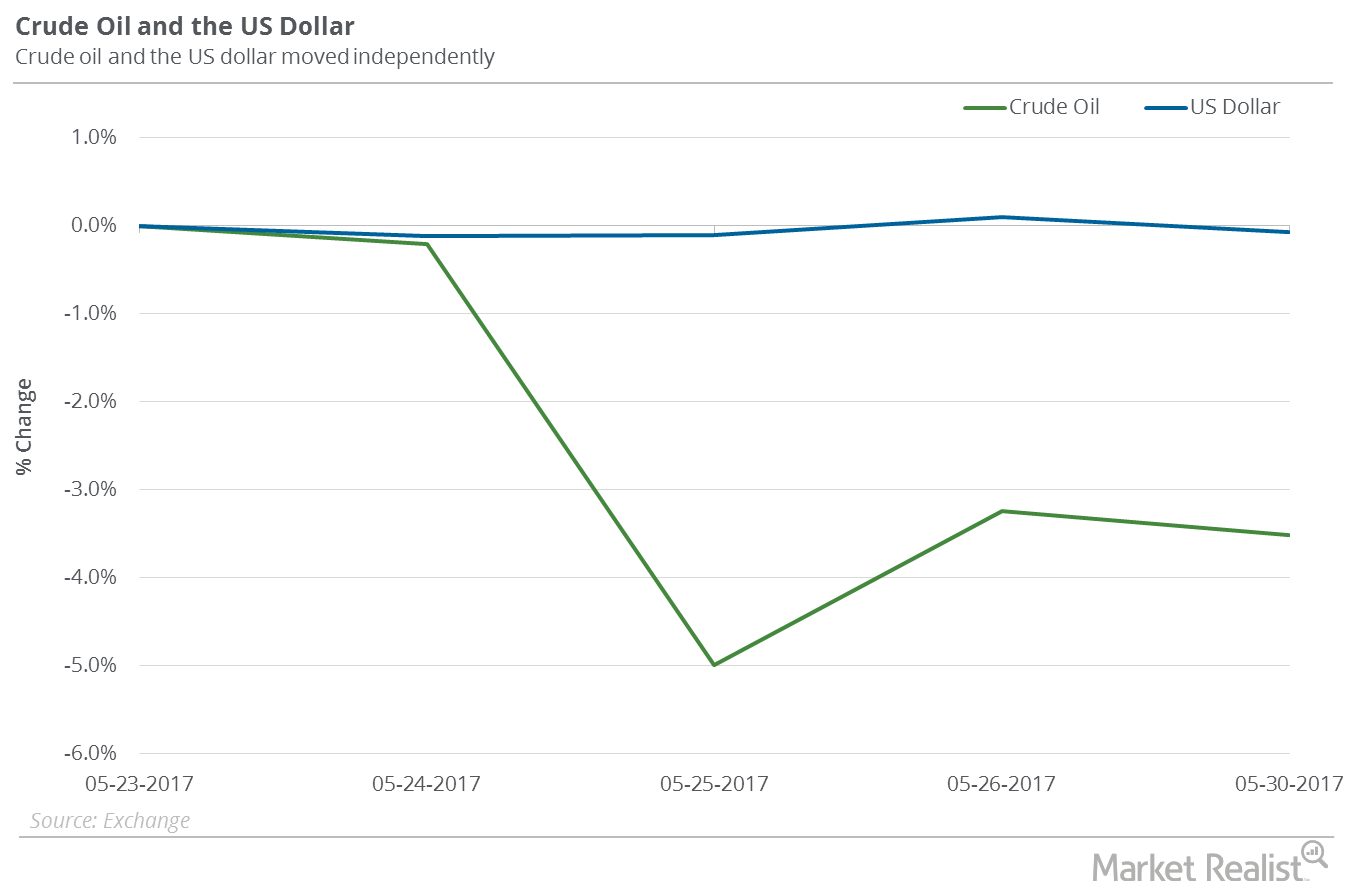 Is the US Dollar Impacting Oil's Downturn?
US dollar and crude oil
In the trailing week, the US dollar (UUP) (USDU) (UDN) fell 0.1%. Despite a fall in the US dollar, crude oil July futures fell 3.5% between May 23 and May 30, 2017. Oil prices moved independently of the US dollar last week.
The correlation between US crude oil and the US dollar was 23.9%. They moved in opposite directions in only one instance out of four trading sessions.
A weaker dollar could boost crude oil prices because a fall in the dollar reduces the cost of oil for oil-importing countries and vice versa.
Article continues below advertisement
Article continues below advertisement
Interest rate impacts oil
The US dollar derives important cues from the Fed's interest rate decisions. The FOMC (Federal Open Market Committee) will announce its next interest rate move on June 14, 2017.
It could be crucial for ETFs like the Direxion Daily Energy Bear 3X ETF (ERY), the Direxion Daily S&P Oil & Gas Exploration & Production Bear 3X ETF (DRIP), the United States Brent Oil ETF (BNO), the First Trust Energy AlphaDEX ETF (FXN), and the United States Oil ETF (USO).
Correlation since September 2007
The rolling one-month correlation between crude oil and the US dollar was largely negative between September 2007 and June 2013.
From June 2013 to date, the one-month correlation fluctuated between -64.0% and 43.0%. So, fundamental factors could be key for oil prices apart from the relationship with the US dollar. Investors should mainly track demand-supply trends to understand where prices could head.