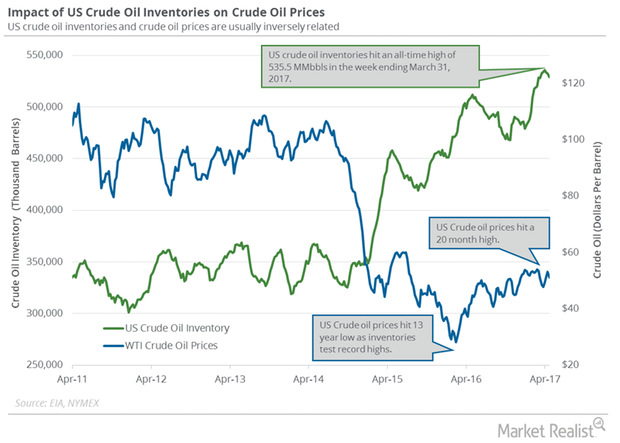 Near-Record US Crude Oil Inventory: Will Oil Blood Bath Continue?
Crude oil prices
June WTI (West Texas Intermediate) crude oil (ERY) (ERX) (SCO) futures contracts fell 0.40% and were trading at $48.68 per barrel in electronic trade at 2:35 AM EST on May 2, 2017. Prices are at a one-month low.
However, broader markets such as the S&P 500 (SPY) (SPX-INDEX) and the Dow Jones are near all-time highs. Bullish momentum in the US stock market could support oil demand and oil prices. The United States is the largest crude oil consumer. For more on crude oil prices, read Part 1 of this series.
Higher crude oil prices have a positive impact on the earnings of oil and gas producers such as Carrizo Oil & Gas (CRZO), Marathon Oil (MRO), and Cobalt International Energy (CIE).
Article continues below advertisement
API's crude oil inventories
On May 2, 2017, the API (American Petroleum Institute) will release its weekly crude oil inventory report. A market survey estimates that US crude oil inventories could have fallen 2.2 MMbbls (million barrels) from April 21–28, 2017. A fall in crude oil inventories could support US crude oil (XLE) (XOP) (USO) prices.
EIA's crude oil inventories
The API's report will be followed by the EIA's (U.S. Energy Information Administration) weekly crude oil inventory report for the week ended April 28, 2017. The report will be released on May 3, 2017, at 10:30 AM EST.
For the week ended April 21, 2017, the EIA reported that US crude oil inventories fell 3.6 MMbbls to 528.7 MMbbls. For more information, read Large Draw in US Crude Oil Inventories Supported Oil Prices.
Impact of US crude oil inventories
US crude oil inventories have risen ~50.0 MMbbls, or 9.3%, in the last 17 weeks. Crude oil prices fell ~6.0% during that same period. Near-record crude oil inventories could pressure crude oil prices. They might also be responsible for the delay in rebalancing the crude oil market despite the major oil producers' production cut deal.
In the next part of this series, we'll see how OPEC's (Organization of the Petroleum Exporting Countries) crude oil production impacts crude oil prices.