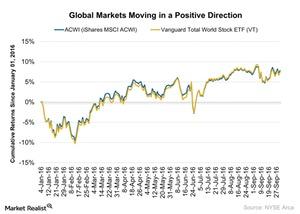 These Key Economic Indicators Were Released Last Week
Key economic indicators
Investors should monitor economic indicators to understand the condition of the global economy (ACWI) (VTI). Indicators are important because they shed light on a country's economic health. They help investors identify short-term economic trends and changes in market sentiments.
Important global indicators released last week include the following:
Article continues below advertisement
Importance of manufacturing PMI
In this series, we'll take a look at the Ifo business climate index for Germany (EWG) in September 2016, the final United States (QQQ) (SPY) 2Q16 GDP reading, and the US consumer sentiment index.
We'll also look at Japan's retail sales for August 2016, the US consumer confidence index for September 2016, US weekly crude oil (USO) (UWTI) inventories for the week ended September 23, and the outcome of the much-awaited OPEC meeting.
In the next part of this series, we'll analyze the German business climate in September 2016.