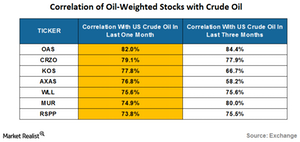 Crude Oil's Comeback: Analyzing Oil-Weighted Stocks
US crude oil
Crude oil prices recovered on the hope that OPEC (Organization of the Petroleum Exporting Countries) will hold a meeting in September to discuss potential solutions to current low prices. Also, Saudi Arabia's energy minister's statement hinting at some action by OPEC to support prices and a bullish IEA report last week helped support prices.
In this series, we'll take a close look at the correlations between crude oil–weighted stocks and crude oil. We'll also look at the correlations between natural gas–weighted stocks and natural gas.
Article continues below advertisement
Oil-weighted stocks
Let's look at some of the upstream companies that are part of the SPDR S&P Oil & Gas Exploration & Production ETF (XOP) and operate with a production mix of at least 60% in crude oil. Below are the correlations of these oil-weighted companies with West Texas Intermediate crude oil from July 15 to August 15, 2016. You can also see these in the above table.
Oil-weighted stocks that are correlated strongly with crude oil over the last month include:
Oil-weighted stocks that had the lowest correlation with crude oil include the following:
Investors who are bullish on crude oil might use some of the stocks that have a high correlation with crude oil to realign their portfolios.
In the next part of this series, we'll look at the returns of crude oil–weighted stocks compared to crude oil.