How Did US Financial Markets Fare in October 2015?
The S&P 500 index, tracked by the SPDR S&P 500 ETF (SPY) and the iShares Core S&P 500 ETF (IVV), rose 8.3% in October.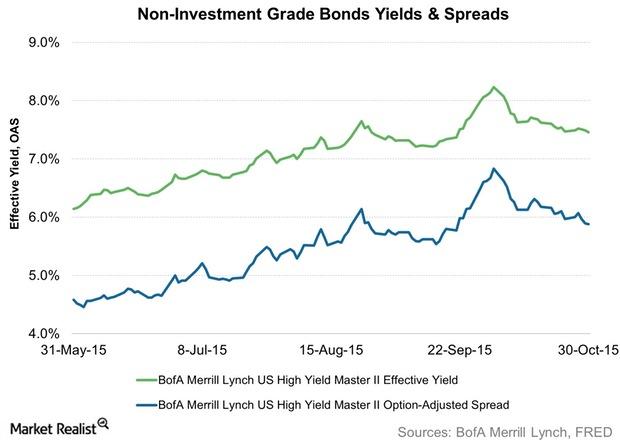 Equities
US stock markets posted strong returns in October 2015. The S&P 500 index, tracked by the SPDR S&P 500 ETF (SPY) and the iShares Core S&P 500 ETF (IVV), rose 8.3%. The Dow Jones Industrial Average (DJIA), tracked by the SPDR Dow Jones Industrial Average ETF (DIA), rose 8.5% week-over-week. Meanwhile, the NASDAQ rose the most by 9.4% last week. The earnings season and economic indicators impacted equity markets.
Companies that posted better-than-expected earnings numbers include Intel (INTC), Citigroup (C), Apple (AAPL), Alibaba Group Holding (BABA), Bristol-Myers Squibb Company (BMY), Coach (COH), and Ensco (ESV).
Among the companies that posted disappointing results were Alcoa (AA), JPMorgan Chase (JPM), The Container Store Group (TCS), Yum! Brands (YUM), Walmart Stores (WMT), United Parcel Service (UPS), Barclays (BCS), U.S. Steel Corporation (X), and Delphi Automotive (DLPH).
Article continues below advertisement
Article continues below advertisement
Economic indicators
The US economy rose modestly by 1.5% in 3Q15, thus leading stocks lower. Though it did indicate expansion, the rise was slow. US durable goods orders fell 1.2% in September from the previous month, indicating continued weakness in the manufacturing sector.
While the University of Michigan consumer sentiment index rose 4.9 points to 92.1 in October, the consumer confidence index fell five points to 97.6 in October from the previous month.
Treasury yields
Treasury yields rose across the board in October. They were primarily influenced by what market participants considered to be a hawkish tone in the FOMC (Federal Open Market Committee) statement released on October 28. The FOMC kept the door open for a rate hike in its last meeting of 2015 in December.
Following the release of the statement, yield on the three-month Treasury security doubled by the end of October.
Junk bonds
Junk bond yields fell month-over-month. With this fall, ETFs investing in junk bonds such as the SPDR Barclays High Yield Bond ETF (JNK) and the iShares iBoxx $ High Yield Corporate Bond ETF (HYG) rose in October.
This series will cover the developments in the primary and secondary markets for high-yield debt and leveraged loans for October. We'll begin with developments in the high-yield primary market issuance.