Both the S&P 500 and Nasdaq 100 have hit record highs despite market pessimism. Many U.S. stocks, especially tech stocks, have soared this year as investors have realigned their portfolio to accommodate for digitization speeding up. Some investors are also wondering what stocks to buy now. Are there still any cheap stocks available as broader market valuations near multiyear highs?
Article continues below advertisement
Which stocks are good buys right now?
There are still many stocks that could be good buys right now, provided you take a long-term view. Here are five:
NIO
Amazon
Berkshire Hathaway
U.S. Steel Corporation
Freeport-McMoRan
Suncor Energy
Article continues below advertisement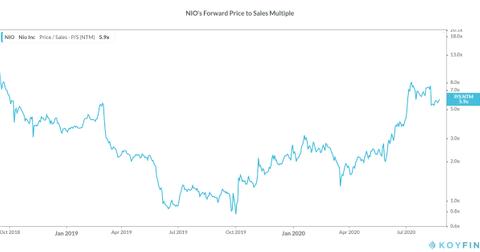 NIO, also known as the Tesla of China, is up this year and has room to grow. Much of its rally comes from the fact that the stock tanked in 2019. NIO's valuation multiples make it cheaper than Tesla, and the company has announced international expansion plans, which should lift its revenue. NIO is an attractive play on the electric vehicle industry.
Article continues below advertisement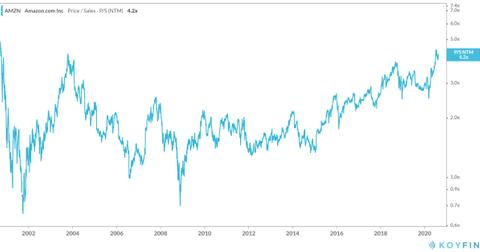 Amazon is among the top 10 gainers in the S&P 500 this year. The company is well placed to capitalize on the rising e-commerce sales and shift to cloud computing amid the coronavirus pandemic. While its stock currently looks somewhat richly valued, Amazon may still be among the best stocks to buy and hold for the long term.
Article continues below advertisement
Berkshire Hathaway, run by legendary investor Warren Buffett, underperformed the S&P 500 by 20 percent last year, as well in the first half of 2020. However, the stock has caught up over the last month and the trend could continue. Many have faulted Buffett for missing the rally in U.S. stock markets, but the Oracle of Omaha has often proven critics wrong. Given broader markets' overvaluation, Berkshire Hathaway is a great stock to hold for the long term.
This article "The stock market is trading at its highest valuation in 18 years, shrugging off skyrocketing unemployment claims and economic ruin (SPY)" on @businessinsider extensively cites content and analysis from the FactSet Earning Insight report: https://t.co/3LB7scZpa7

— FactSet (@FactSet) May 14, 2020
Article continues below advertisement
Which stocks are cheap?
U.S. stock market valuations look stretched, with the S&P 500's next 12-month PE ratio being over 22x. That's way above its five-year average of 17x. However, some energy, metal, and mining stocks look cheap and could be good buys.
Article continues below advertisement
Although U.S. Steel Corporation's market capitalization fell below $1 billion as U.S. stock markets crashed in the first quarter, it has since bounced back. The company is set to benefit from its asset revitalization plans and focus on electric arc furnaces. Whereas the company is burning cash on its plans, they could pay back in the long term.
When Warren Buffett deployed some of his massive cash stash during the Q4 market downturn, one bargain he picked up was Suncor Energy. $SUhttps://t.co/ZalYzOS48g

— The Motley Fool (@themotleyfool) March 21, 2019
Article continues below advertisement
Freeport-McMoRan, the world's largest publicly traded copper mine, has a quality portfolio of mines in relatively stable jurisdictions. It could also expand some of its mines if market conditions improve. While its 2020 multiples make its stock look overvalued, it looks cheap if we consider its numbers for 2023, when its Grasberg mine is set to ramp up production. For long-term investors, Freeport-McMoRan stock looks like a good cheap buy.
Energy stocks could be a good bet