Palihapitiya's IPOD and IPOF Fall—Is the SPAC Bubble Bursting?
Chamath Palihapitiya's IPOD and IPOF SPAC stocks have seen large declines lately. Are they a buy after the fall?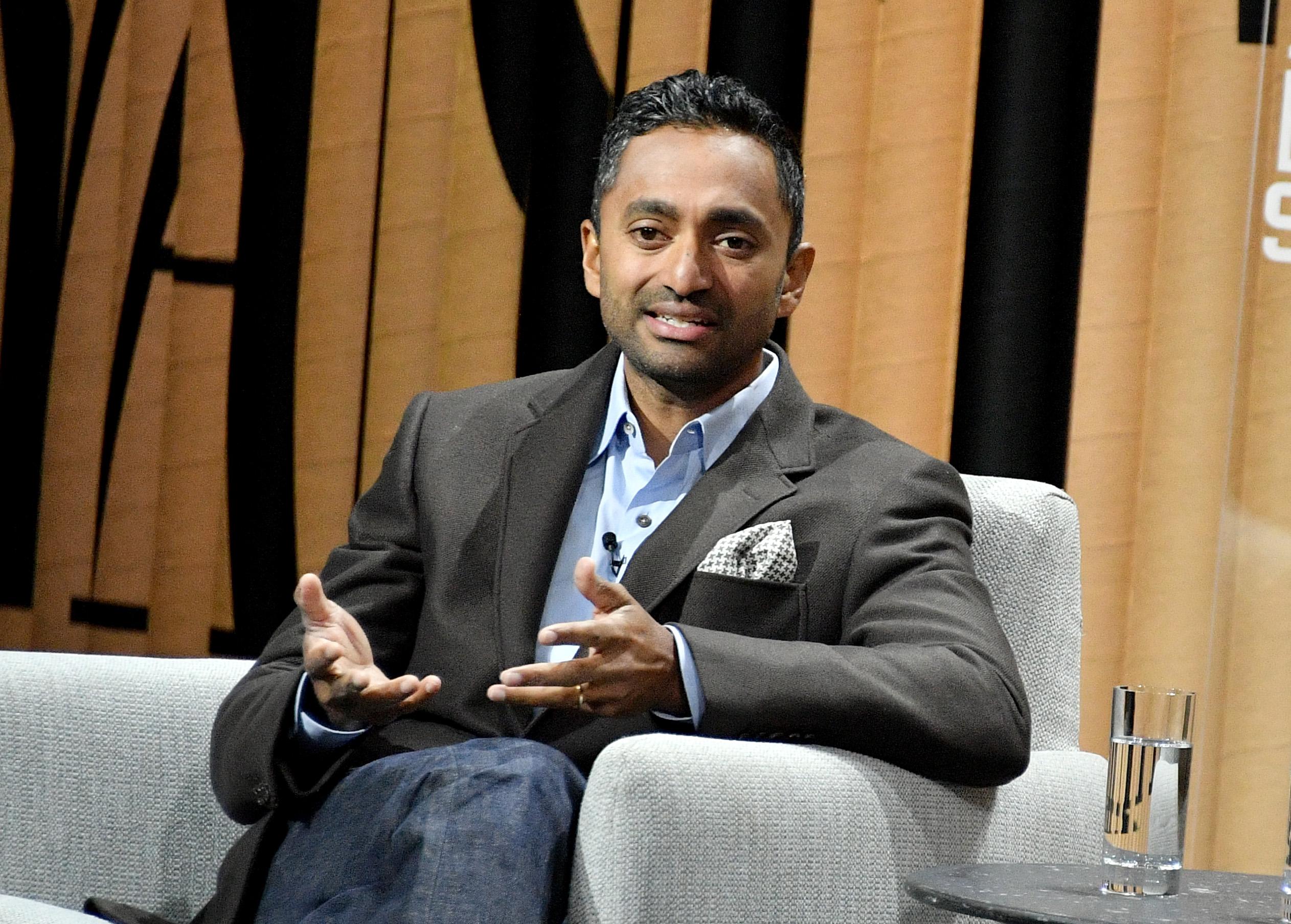 Overall, 2020 was the year of SPACs with nearly 230 SPAC IPOs raising $80 billion. For context, the number of IPOs through the SPAC-route was higher than the last 10 years combined. As companies jostled to go public quickly amid the surging stock market, SPACs became the preferred route. Meanwhile, 2021 started on an even more bullish note for SPACs. The euphoria can't continue forever and it seems like SPACs are experiencing their reality check moment.
Article continues below advertisement
Article continues below advertisement
Among SPACs specifically, Chamath Palihapitiya's IPOD and IPOF, the ones that haven't found a target yet, have also fallen. The fall in these SPACs raises the question about whether SPACs are in a bubble and if investors should buy IPOD, IPOF, or both?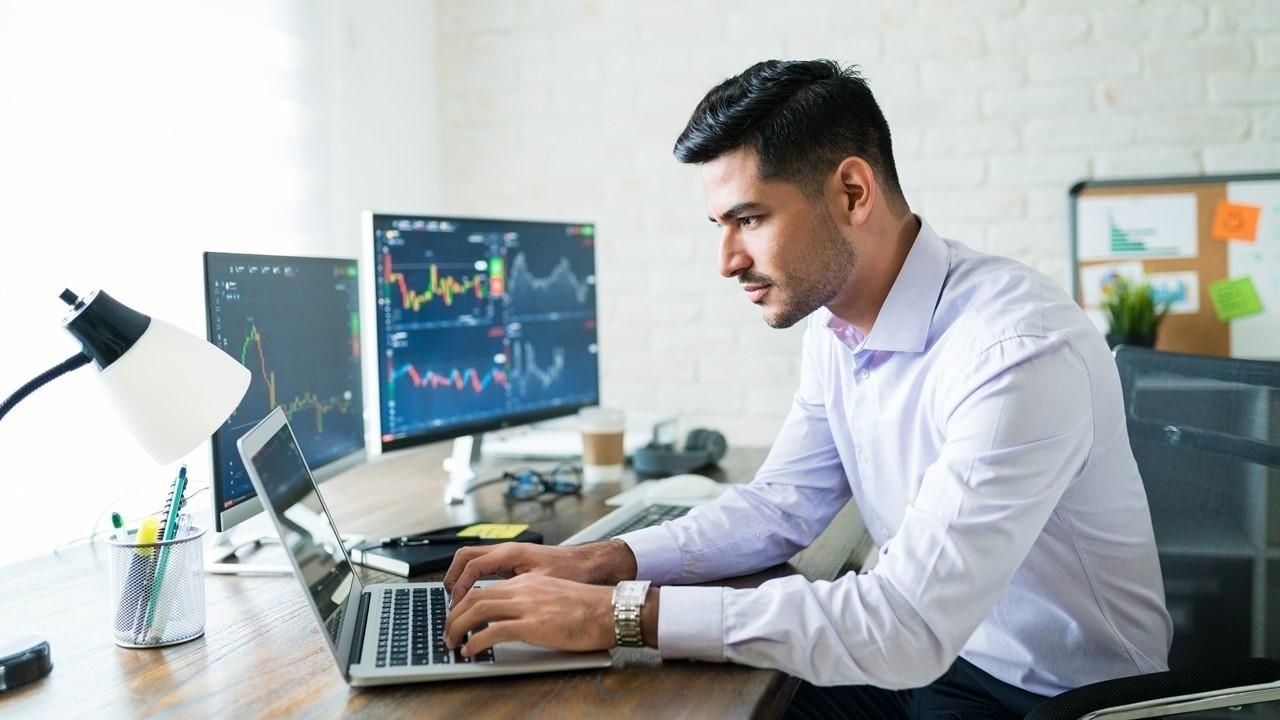 Article continues below advertisement
Why Chamath Palihapitiya's SPACs are falling
Currently, the market is in risk-off mode following the macroeconomic background. After years of low inflation, this year is expected to pick up. As large-scale COVID-19 vaccination efforts get the economy back on track during the year, the Fed could raise interest rates faster than expected. These developments might not be ideal for stocks and particularly speculative ones.
By nature, SPACs are speculative. They are blank-check or shell companies that don't have any business. They form to help take another business public. This results in a drop in many SPAC stock prices. However, Palihapitiya's SPACs have another reason to drop.
Article continues below advertisement
Article continues below advertisement
Hindenburg Research alleged that Clover Health hid material facts from investors. Cover Health merged with Palihapitiya's Social Capital Hedosophia Holdings III (IPOC). The SEC launched a probe into Clover Health after Hindenburg's allegations. A SPAC's performance relies a lot on the sponsor's reputation. Since Hindenburg took a swipe at Palihapitiya, his other SPACs also took a beating.
IPOD versus IPOF SPAC
Both IPOD and IPOF are still looking for merger targets. While they can merge with a company from any industry, they intend to focus on the technology sector. However, the technology sector has widened to also include green energy companies. Palihapitiya is passionate about the green energy theme. Therefore, it wouldn't be a surprise if the SPAC targets come from this sector.
Article continues below advertisement
At the peak of the SPAC-mania in January, IPOD and IPOF hit new highs. While IPOD hit a high of $17.94 on Jan. 21, IPOF hit a high of $15.95 on Feb. 4. On the same day, Clover Health plunged after Hindenburg's allegations. Currently, IPOD and IPOF stocks are trading nearly 33 percent and 27 percent down from these peaks, respectively. They are only trading at a premium of 10 percent and 13.5 percent from their respective IPO prices.
Article continues below advertisement
Is the SPAC bubble bursting?
After many SPAC stocks crashed from their lofty heights, many people wonder if the SPAC bubble is bursting. First, we need to understand the reason why so many SPAC stocks took a hit. The recent broader sell-off targeted growth stocks, which were trading at very high valuations. Some SPACs that hadn't determined a merger target yet were the ones that fell. They had risen in the first place in the hopes that they would find a merger target in a high growth space. These SPACs had doubled the uncertainty and valuation concern of growth stocks.
Article continues below advertisement
Previously, many SPACs rose after the merger. Investors rushed into SPACs, particularly if they had anything to do with EVs. The fear of missing out created a bubble in SPAC valuations. Through the recent correction, SPAC stock prices have come more in line with their fundamental value, which reflects their future prospects.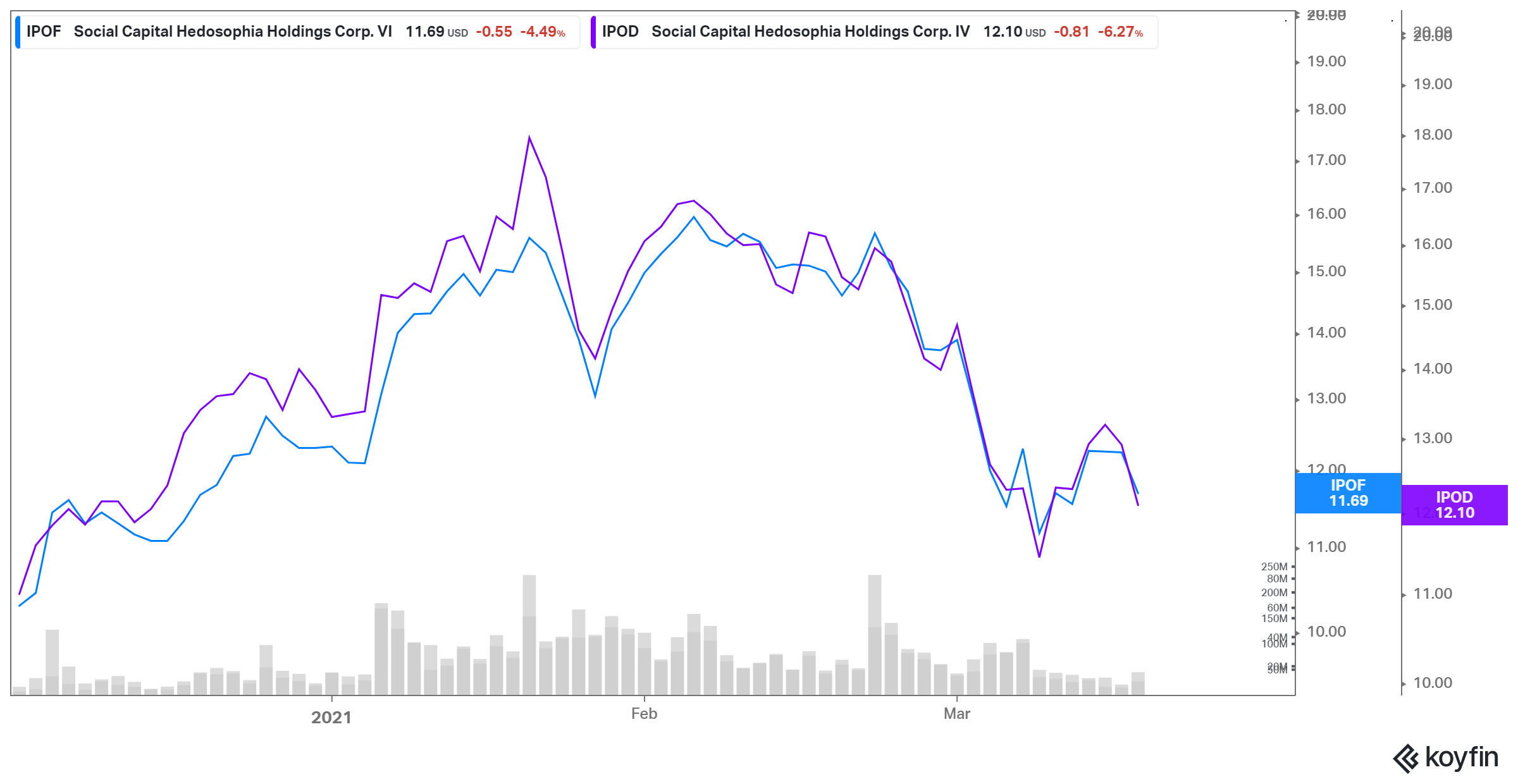 Article continues below advertisement
Article continues below advertisement
Buying IPOD and IPOF stocks
Since IPOD and IPOF have fallen significantly, many investors wonder if it's the right time to get into these stocks or if they are a falling knife. Whether or not you would like to invest in these two SPACs will ultimately depend on how much you trust Palihapitiya, especially after the Hindenburg allegations. SPACs, specifically the ones without a target, are largely a function of the reputation and experience of their sponsors.
However, apart from Clover, Palihapitiya has a good track record of finding merger targets. IPOD and IPOF could rise after they find and announce a merger target. If you want to invest in one or both of them, now might be the time to get aboard.