IPOD or IPOF: Which Is a Better Palihapitiya SPAC Stock to Buy?
Two of Chamath Palihapitiya's SPACs (special purpose acquisition company), Social Capital Hedosophia Holdings IV (IPOD) and Social Capital Hedosophia Holdings VI (IPOF) are currently hunting for merger targets. Which of these could be a better SPAC stock to buy?
Article continues below advertisement
Article continues below advertisement
Palihapitiya, also known as the king of SPACs, has launched six SPACs under the name Social Capital Hedosophia Holdings. The SPACs launched under the ticker symbols IPOA, IPOB, IPOC, IPOD, IPOE, and IPOF. Three of them have already merged with targets, while IPOE has announced a merger with SoFi or Social Finance.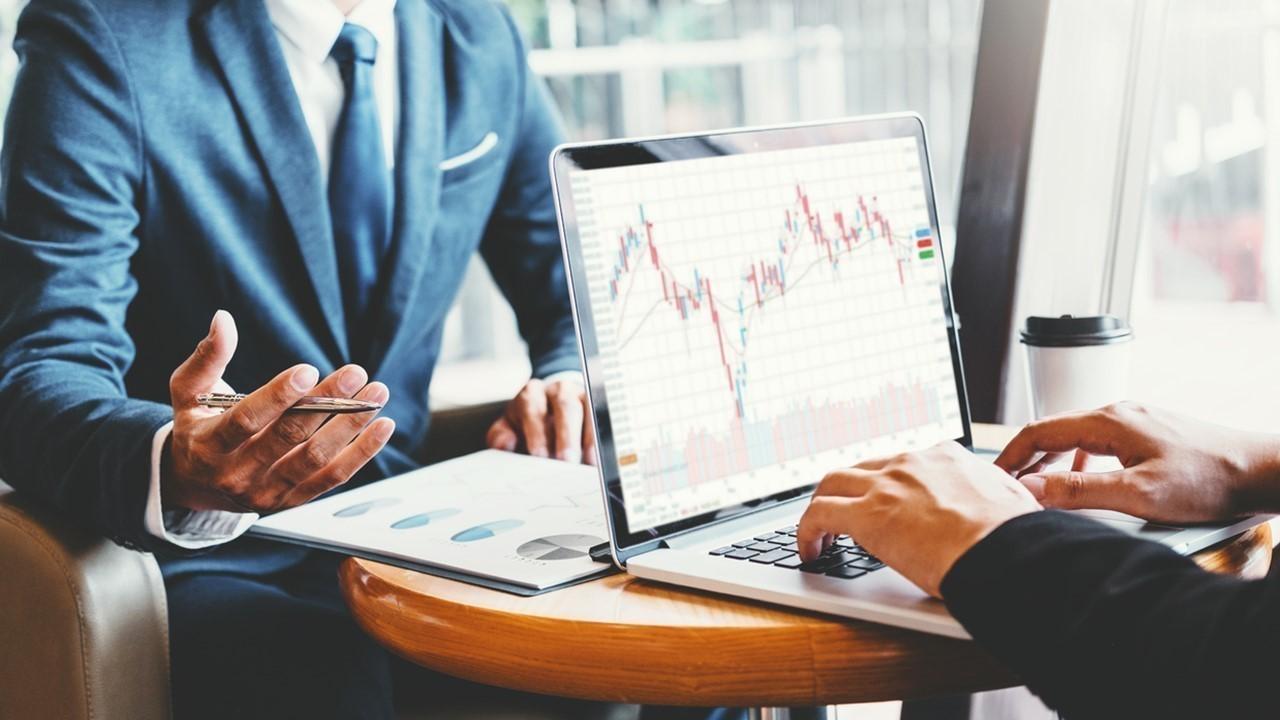 Article continues below advertisement
Which companies will IPOD and IPOF merge with?
Looking at their regulatory filings, although IPOD and IPOF can target any industry, they intend to focus on the technology sector. That said, the definition of technology has changed over the last few years. Clover Health is a Medicare company that merged with one of Palihapitiya's SPACs. It's seen as a technology company.
Green energy companies are also seen as technology companies. Palihapitiya is bullish on the green energy theme and frequently tweets about climate change. He has also invested in EV (electric vehicle) manufacturer Proterra. Many people have been speculating that he might take Lucid Motors public. There are also rumors that Lucid Motors is in talks with Churchill Capital Corp. IV (CCIV).
Article continues below advertisement
Article continues below advertisement
Will IPOD or IPOF merge first?
Palihapitiya hasn't followed the convention of announcing the SPAC mergers in the order that they were launched. The merger for IPOE with SoFi was announced before IPOD's merger. IPOD raised $700 million in the IPO, while IPOF is the largest SPAC from Palihapitiya. IPOF raised $1 billion in the IPO.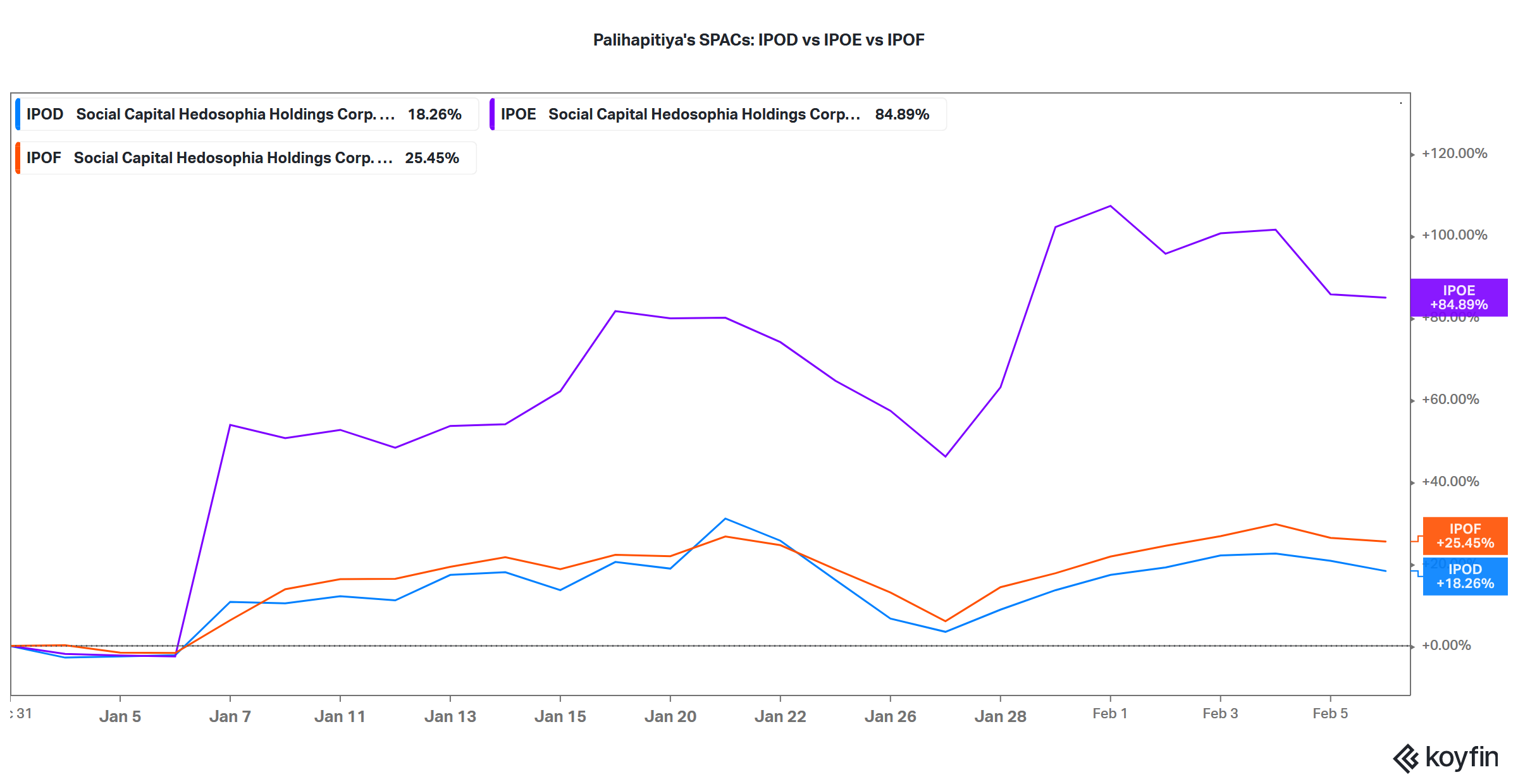 Article continues below advertisement
Buying Palihapitiya SPAC stock
Palihapitiya's SPACs have been under pressure after short-seller Hindenburg Research accused Clover Health of hiding facts. IPOD, IPOE, and IPOF are down 11.5 percent, 18.6 percent, and 6.7 percent, respectively, from their 52-week highs. Despite the recent correction, these stocks are up sharply for the year.
Article continues below advertisement
IPOD is trading at a bigger premium
In terms of premium, IPOD SPAC stock is trading 62 percent above its IPO price of $10, while IPOF's premium over the IPO price is 54 percent. The massive premium that SPACs are commanding, despite announcing a merger target, smells of a bubble.
Article continues below advertisement
Investors have been getting into SPACs before the mergers because SPACs soar after merger announcements. While its FOMO (fear of missing out) at its worst, that's the way markets have been functioning. SPACs rival traditional IPOs for investors' wallets.
Article continues below advertisement
Article continues below advertisement
Buying IPOD or IPOE SPAC stock
Investors seem to be paying a higher premium for IPOD over IPOF assuming that IPOD will announce a merger before IPOF. However, that may or may not be the case, which is evident with IPOE. Ultimately, the decision to invest in Palihapitiya's SPACs would depend on how you view Hindenburg's allegations against him and Clover Health.
Looking at the drawdown from 52-week highs, the IPOD SPAC stock looks like a better buy. However, based on the premium over the IPO price, IPOF looks to offer better value. Ultimately, it's a decision that you have to make. In all probabilities, these SPAC stocks might rise more after Palihapitiya finds a merger target. It might be a better idea to get in now and participate in the surge after the merger announcement.
Keep in mind that Palihapitiya also tweeted and explained that it isn't easy to find suitable merger targets for SPACs. There's a flurry of SPACs hunting for deals in the market. Even Bill Ackman's SPAC hasn't been able to find a merger target yet after his overtures were reportedly turned down by Airbnb in 2020.