Buy PSTH SPAC Stock Now Before Ackman Finds a Merger Target
Billionaire fund manager Bill Ackman founded SPAC Pershing Square Tontine Holdings (PSTH) in 2020. The stock gained 3.3 percent on Feb. 2 and was trading higher on Feb. 3. Should you buy PSTH SPAC stock before Ackman finds a merger target?
Article continues below advertisement
In 2020, Ackman approached Airbnb about going public through a reverse merger with his SPAC. However, Airbnb decided against the merger and listed through the traditional IPO route in December. The stock more than doubled on listing day, which shows Ackman's flair for finding good companies.
Article continues below advertisement
Bill Ackman's performance
Ackman outperformed the markets by a wide margin in 2019 and 2020. Overall, 2020 was a standout year for Ackman and Pershing Square Holdings. He correctly bet against the markets in the first quarter of 2020.
Ackman brought credit protection policies in the first quarter of 2020. The bet played out well as credit spreads widened amid the stock market crash. It was among the most iconic trades of all time and Pershing Square turned $2.7 million into $2.6 billion. Ackman also exited Pershing Square's position in Berkshire Hathaway in 2020. Since then, the stock has continued to underperform.
Article continues below advertisement
About Bill Ackman's PSTH SPAC
Ackman's PSTH SPAC raised $4 billion through the IPO that was priced at $20 per share. The company talked about acquiring a "mature unicorn," which it described as "high-quality, venture-backed businesses have achieved significant scale, market share, competitive dominance and cash flow."
PSAC-Stripe merger
Last year, there were rumors that PSAC would acquire fintech company Stripe. However, Stripe CEO Patrick Collison denied the rumors. Incidentally, Chamath Palihapitiya tweeted that he wants to take Stripe public.
Article continues below advertisement
One of Palihapitiya's SPACs, Social Capital Hedosophia Holdings V Corporation (IPOE) is taking another fintech company Social Finance or SoFi public through the reverse merger. There were even rumors that he might take Lucid Motors public amid uncertainty about Lucid's merger with Churchill Capital Corp IV (CCIV).
Is PSTH stock a buy before Ackman finds a merger target?
SPACs are known as blank-check companies. Investors who buy the stock before the merger are just betting on the founder's reputation. Going by Ackman's recent performance at Pershing Square Holdings, I would bet on his expertise to find a suitable merger target for PSTH SPAC also.
Article continues below advertisement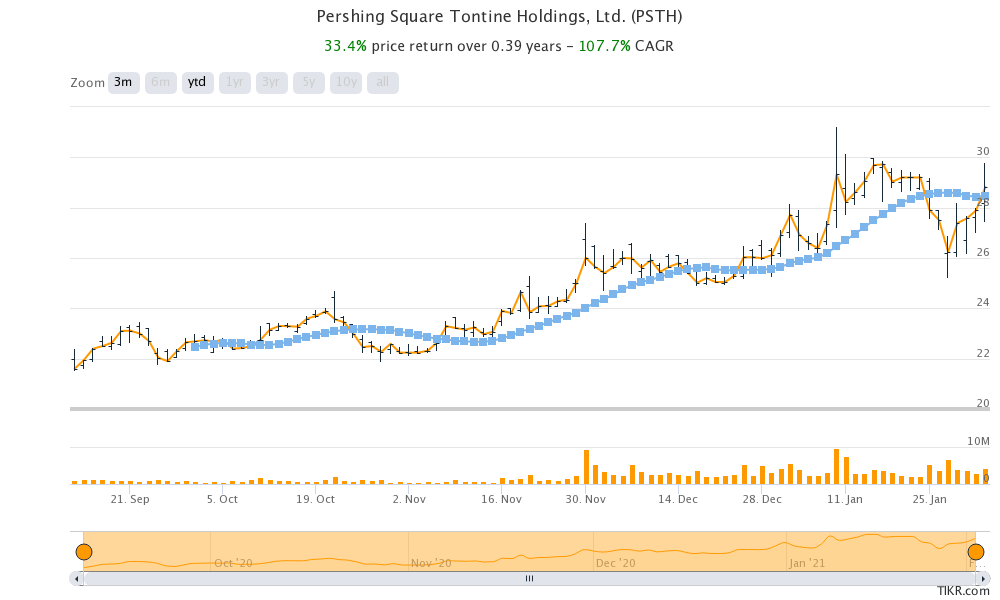 Most SPACs, including those from Palihapitiya, are trading at a massive premium over their IPO price despite not having a merger target. PSAC's premium over the IPO price is only about 45 percent. While it may look high on an absolute basis, it doesn't look expensive on a relative basis.
PSAC stock has a 52-week high of $31.21 and a 52-week low of $21.50. The stock could rally if Ackman finds a merger target. It might be prudent to get into the stock now before Ackman finds a target.