Markets Look at US-China Trade Talks as Slowdown Concerns Multiply
Today, another round of trade talks started in Beijing.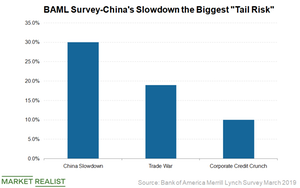 US-China trade talks
Today, another round of trade talks started in Beijing. Markets are hoping for a quick resolution to the remaining trade differences, but there still seems to be a lot that needs to be done before a deal can be signed. The optimism over a US-China trade deal somewhat faded this year after Trump said tariffs on China could remain for a "substantial period."
Article continues below advertisement
Article continues below advertisement
Markets turn jittery
As the US and China continue to deliberate on trade matters, markets are getting jittery regarding a potential slowdown. On March 22, the spread between the yields on the three-month Treasury (TLT) security and the ten-year Treasury (BND) (AGG) security turned negative for the first time since 2007. Investors have now started fearing that prolonged weakness in Europe and China and the ongoing trade tensions between the United States and China could lead to a recession in 2019 or 2020.
Slowdown concerns
The slowdown concerns have now become widespread. China's (FXI) industrial data came in at a 17-year low as production grew 5.3% year-over-year in January and February combined. US (DIA) manufacturing production also fell by 0.4% in February, which marked the second straight month of output contraction. The latest set of weak manufacturing data from the Eurozone (HEDJ) (EZU) further added to the risk-off sentiment, which weighed negatively on stock markets (SPY).
The ongoing trade talks between the United States (IVV) and China (FXI) are adding to the uncertainty, as these slowdown concerns have taken hold. Check out Trump's at It Again: Markets Spooked by Tariff Warning for more analysis.
Many companies like FedEx (FDX), BMW (BAMXF), and UBS have been warning about the slowing global economy. US companies Apple (AAPL) and NVIDIA (NVDA) have warned that China's slowdown is hurting their earnings.