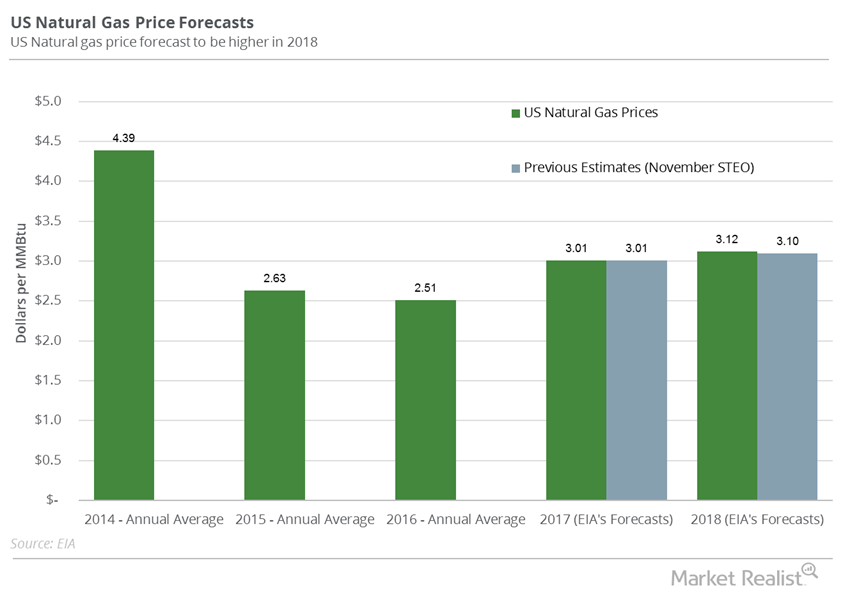 Will US Natural Gas Futures End 2017 on a Low Note?
Moving averages  
January US natural gas (UGAZ) futures contracts were below their 100-day, 50-day, and 20-day moving averages on December 21, 2017. It suggests that prices could trend lower.
US natural gas (DGAZ) prices were near a ten-month low due to excess supplies and mild weather. Lower gas (UNG) prices have a negative impact on energy producers' (XLE) (PXI) profitability like WPX Energy (WPX), Range Resources (RRC), and EQT (EQT).
Article continues below advertisement
Natural gas futures contracts  
The premium for January 2019 NYMEX natural gas futures over January 2018 natural gas futures was at $0.33 per MMBtu (million British thermal units) on December 21, 2017. The premium between these contracts was at $0.34 per MMBtu on December 7, 2017, which was the highest level since July 2010. A higher premium indicates that prices could fall.
Natural gas price drivers 
A smaller withdrawal in US natural gas inventories compared to the seasonal averages could pressure natural gas prices next week. Mild weather could also pressure natural gas (UNG) prices. However, short covering and a cold winter forecast could support gas prices.
EIA's forecast 
The EIA estimates that US natural gas prices could average $3.12 per MMBtu in 2018. The expectation of a rise in US natural gas consumption and exports could support natural gas prices. Even the World Bank expects that US natural gas prices will average $3.1 per MMBtu in 2018.
Read Factors Could Change the Trend in Crude Oil Prices for the latest updates on crude oil.