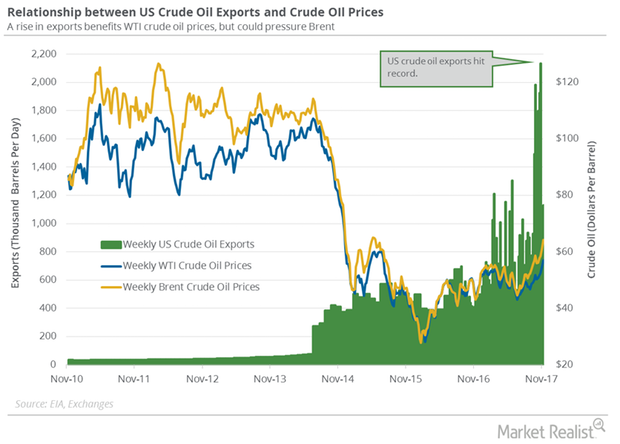 US Crude Oil Exports and Drilling Activity Impact OPEC
US crude oil exports 
According to the EIA, US crude oil exports rose by 260,000 bpd to 1,129,000 bpd on November 3–10, 2017. Exports rose 30% week-over-week and by 690,000 bpd or 158% year-over-year. US crude oil exports hit 2,133,000 bpd in the week ending October 27, 2017. Exports rose due to lifting the oil export ban, record US crude oil output, and a wider spread between Brent (BNO) and US oil (USO) (UCO) prices.
High US oil exports support WTI (West Texas Intermediate) oil (USL) prices. They're also at the July 2015 high. High oil prices benefit energy producers' (IEO) (IXC) earnings like Denbury Resources (DNR), PDC Energy (PDCE), Chesapeake Energy (CHK), and Continental Resources (CLR).
Article continues below advertisement
US crude oil drilling activity 
Baker Hughes estimates that US crude oil rigs rose by 422 or 134% since May 2016 due to higher crude oil (DBO) (UWT) prices. The EIA estimates that US shale oil production will rise for the 12th straight month in December 2017. Westwood Global Energy Group expects that US crude oil production could rise faster than the relative rise in US crude oil rigs. It expects that US crude oil rigs could rise 18% in 2018. Higher oil (BNO) (DWT) prices and improving operating costs could drive US rigs and supplies in 2018.
Impact   
Any rise in US oil rigs and production would offset the benefits of production cuts. It would pressure oil (BNO) (USL) prices.
Next, we'll analyze Venezuela's crude oil production and its impact on oil prices