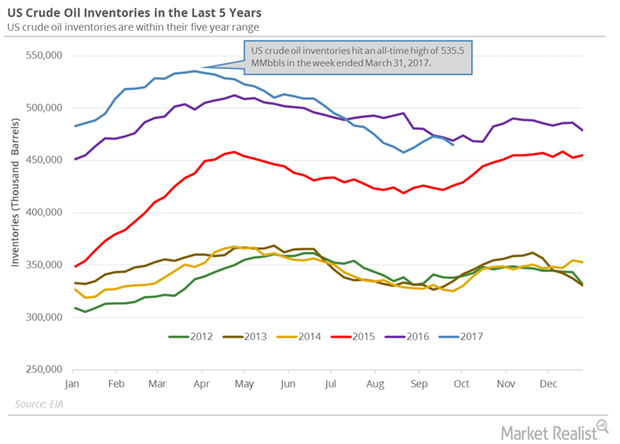 Oil Prices Fell despite the Draw in US Crude Oil Inventories
Crude oil prices 
Article continues below advertisement
US crude oil inventories  
The EIA (U.S. Energy Information Administration) released its crude oil inventory report on October 4, 2017. It estimates that US crude oil inventories fell by 6 MMbbls (million barrels) to 464.9 MMbbls on September 22–29, 2017. Inventories fell 1.3% week-over-week and by 4.1 MMbbls or 0.8% from the same period in 2016.
US crude oil (UCO) prices have fallen 4.2% since September 25, 2016, due to the bearish drivers that we discussed previously in this series. Crude oil prices have fallen 12.5% year-to-date. Moves in crude oil prices impact oil and gas exploration and production companies (XLE) (XOP) like PDC Energy (PDCE), Hess (HES), and WPX Energy (WPX).
Article continues below advertisement
US crude oil inventories by region
The EIA divides the US into five storage regions. Let's assess the changes in crude oil inventories on September 22–29, 2017.
East Coast inventories fell by 1.7 MMbbls to 11.3 MMbbls.
Midwest inventories rose by 3.4 MMbbls to 149.3 MMbbls.
Gulf Coast inventories fell by 4.4 MMbbls to 236.7 MMbbls.
Rocky Mountain inventories fell by 0.2 MMbbls to 20.9 MMbbls.
West Coast inventories fell by 3.2 MMbbls to 46.7 MMbbls.
Impact of US crude oil inventories  
For the week ending September 29, 2017, US crude oil inventories are 23% above their five-year average. High US crude oil inventories could pressure crude oil (OIL) (USO) prices.
In the next part, we'll discuss the biggest bearish catalyst for US crude oil prices.