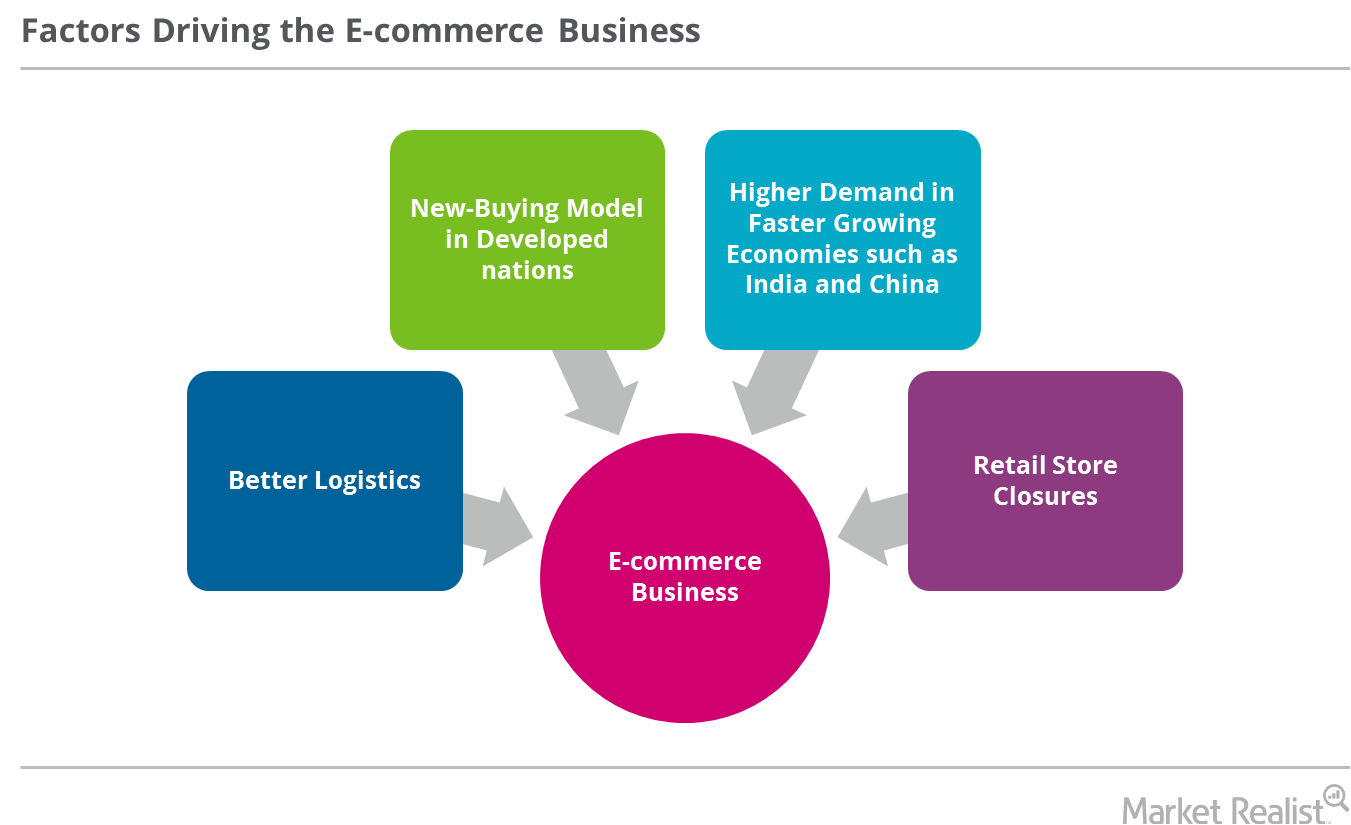 Why Goldman Sachs Is Optimistic about e-Commerce
Goldman Sachs on e-commerce
In a recent note to clients on Wednesday, September 6, 2017, Goldman Sachs (GS) shared its view on the future of the e-commerce business and how much potential the business has to rise in the next three years.
Goldman Sachs wrote, "we are raising our global e-commerce forecasts to reflect the increasing weight of faster growing earlier-stage markets (China, Brazil, India) and categories (Apparel, Grocery) in the mix, as well as the impact of retail store closures, better logistics, and new buying models in more mature markets and categories driving continued share gains."
Article continues below advertisement
Emerging nations versus developed nations
Emerging markets have outperformed major developed nations (EFA) so far in this year. The iShares MSCI Emerging Markets ETF (EEM), which tracks the performance of emerging markets rose nearly 27.3% on a year-to-date basis as of September 7, 2017. The SPDR S&P 500 ETF (SPY), which tracks the performance of the S&P 500 Index, rose nearly 9.5% during the same period.
Major emerging economies (EEM) such as India (INDA), China (YINN), and Brazil (EWZ) are showing improvement in their economic activity. According to Goldman Sachs, these economies are showing faster growth than other economies. Because they are growing at a faster rate, there will be a huge need for faster and smoother e-commerce processes. In major developed nations, people are more interested in new buying models. Logistics systems in the overall world economy (ACWI) are also becoming smoother. All these factors are supporting the e-commerce business.
Online sales growth
According to the investment firm, the online sales growth forecast rose to 21% annually for the next three years from 17% growth.
In the next part of this series, we'll analyze Goldman Sachs's view on Amazon (AMZN).