Why the Ruble Is on the Rise
The recovery of oil prices in the latter half of 2016 has helped the Russian ruble to appreciate along with improved exports.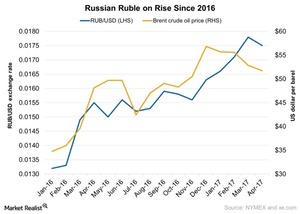 Ruble performance
The Russian ruble has historically moved in line with crude oil prices. The recovery of oil prices in the latter half of 2016 has helped the Russian ruble to appreciate.
Article continues below advertisement
Article continues below advertisement
Performance of the ruble in 2016
Russia's central bank let the ruble free float in 2014 to help companies quickly adjust to external shocks from Western sanctions. The oil price recovery has also helped the Russian economy to recover from slow growth in the last few years. During the last financial crisis in 2008–2009, Russia's GDP contracted by more than 10% as compared to about 3% in the last two years with comparable oil prices (BNO) (PXI) in both periods. The Russian ruble had a remarkable year in 2016 with an appreciation of about 19% as compared to the US dollar (UUP) (USDU).
The emerging market foreign exchange has rallied against the US dollar in 1Q17. The Russian ruble has been among the best-performing emerging market (EEM) currencies during the quarter with gains of about 9%. However, it's down ~2% in April 2017 to 56.9 per US dollar as of April 28.
Improved relations between US and Russia
Interestingly, the Russian ruble (ERUS) has been gaining strength since President Trump's election in November 2016. Trump's election campaign expressed a desire to improve relations with Russia. Many analysts are expecting western sanctions to be eased with the new administration in the US (SPY). The lifting of sanctions would likely be a big boost for Russian companies (RSX). However, investors need to be cautious, as there are still unknowns about relations between the US (QQQ) and Russia (RUSS).
Energy producers (XLE) like Rosneft (ROSN), Novatek (NOVKY), and Gazprom (OGZPY) are expected to benefit from the removal of sanctions due to increased investments and financial flexibility. The sanctions had placed restrictions on long-term lending and the transfer of some US drilling and exploration technology to these companies. This led to difficulty in the payment of foreign currency debts and financing of long-term projects for these companies.
Let's look at the rising consumer confidence in Russia in our next article.