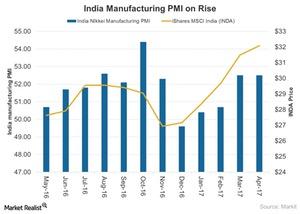 Improved Manufacturing in India, But Recovery?
Manufacturing activity in India
The Nikkei India Manufacturing PMI (purchasing managers' index) for April 2017 matched its reading for the previous month. Slower increases in output, purchases, and employment were offset by stronger growth in new orders. Notably, the rate of expansion remained high among most Asian economies (FXI) (PGJ) (EWS) in April.
Article continues below advertisement
Article continues below advertisement
Improved business conditions in India
Manufacturing conditions in India (EPI) improved for the fourth consecutive month in April 2017. The Nikkei India Manufacturing PMI reported no change in April, as compared to its March level of 52.5.
April saw a slower increase in output, however, with the stocks of purchases and employment being offset by stronger growth in new orders. The robust growth in orders can be attributed to improving demand and increased advertising. Manufacturing jobs also increased for the second month, which came in line with increased demand and greater production needs.
The manufacturing PMI numbers in the above chart show how manufacturing activity has grown at a faster rate in India since the shock of demonetization in November 2016. The recovery in export demand also contributed to a more substantial expansion of total orders in April 2017.
Investment impact
Manufacturing PMIs are important indicators as they tell us about the business conditions of an economy. Specifically, India's "Make in India" program under Prime Minister Modi is portraying the country (INDY) as a global manufacturing hub (ACWI) and has given global recognition to the Indian economy (INDA). Meanwhile, the government has set an ambitious target of increasing its contribution to manufacturing output from 16%–25% of GDP by 2025.
Notably, global hi-tech manufacturing giants such as Siemens (SIEGY), General Electric (GE), Toshiba (TOSYY), Boeing (BA), and HTC (HTCCY) have either set up or are in the process of setting up manufacturing plants in India.
In the next part, we'll take a closer look at Brazil.