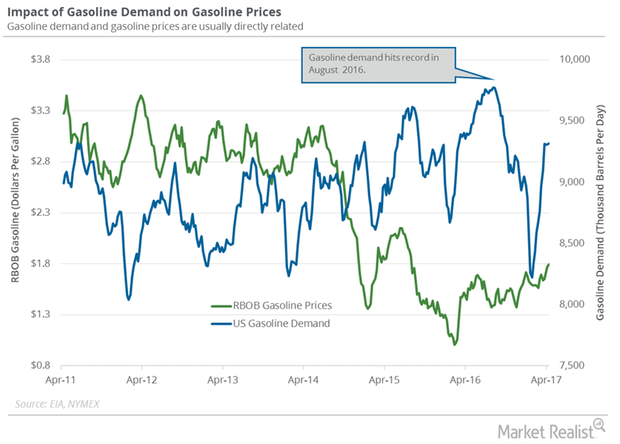 US Gasoline Demand: Bullish or Bearish for Oil Prices?
US gasoline demand 
The EIA (U.S. Energy Information Administration) estimated that four-week average US gasoline demand rose by 6,000 bpd (barrels per day) to 9,317,000 bpd on April 7–14, 2017. US gasoline demand rose 0.1% week-over-week, but fell 0.7% year-over-year. US gasoline demand rose for the tenth time in the last 11 weeks. The rise in gasoline demand is bullish for gasoline and crude oil (ERY) (ERX) (UCO) prices. For more on crude oil prices, read Part 1 and Part 2 of this series.
Article continues below advertisement
Gasoline prices 
US gasoline prices hit $1.14 per gallon on March 15, 2016—the lowest price in 12 years. As of April 25, 2017, prices have risen 52.6% from their lows in February 2016 due to the increase in gasoline demand. Rising gasoline demand partially supported crude oil prices as well. US crude oil prices have risen ~89.3% during the same period. Changes in gasoline demand drive gasoline inventories. For updates on gasoline inventories, read the previous part of the series.
US gasoline consumption estimates for 2017 and 2018  
The EIA estimates that US gasoline consumption will average 9,300,000 bpd and 9,340,000 bpd in 2017 and 2018, respectively. US gasoline consumption figures for 2018 will be the highest ever. US gasoline consumption averaged 9,330,000 bpd and 9,180,000 bpd in 2016 and 2015, respectively. US gasoline consumption hit a record in 2016.
The fall in gasoline consumption in 2017 could pressure gasoline and crude oil prices.
Read Are Hedge Funds Turning Bullish on Crude Oil? and Will Crude Oil Prices Test 3 Digits Again? for more on crude oil price forecasts.
Read What Can Investors Expect in the Crude Oil Market in 2017 for more on crude oil prices.
For more industry analysis, visit Market Realist's Energy and Power page.